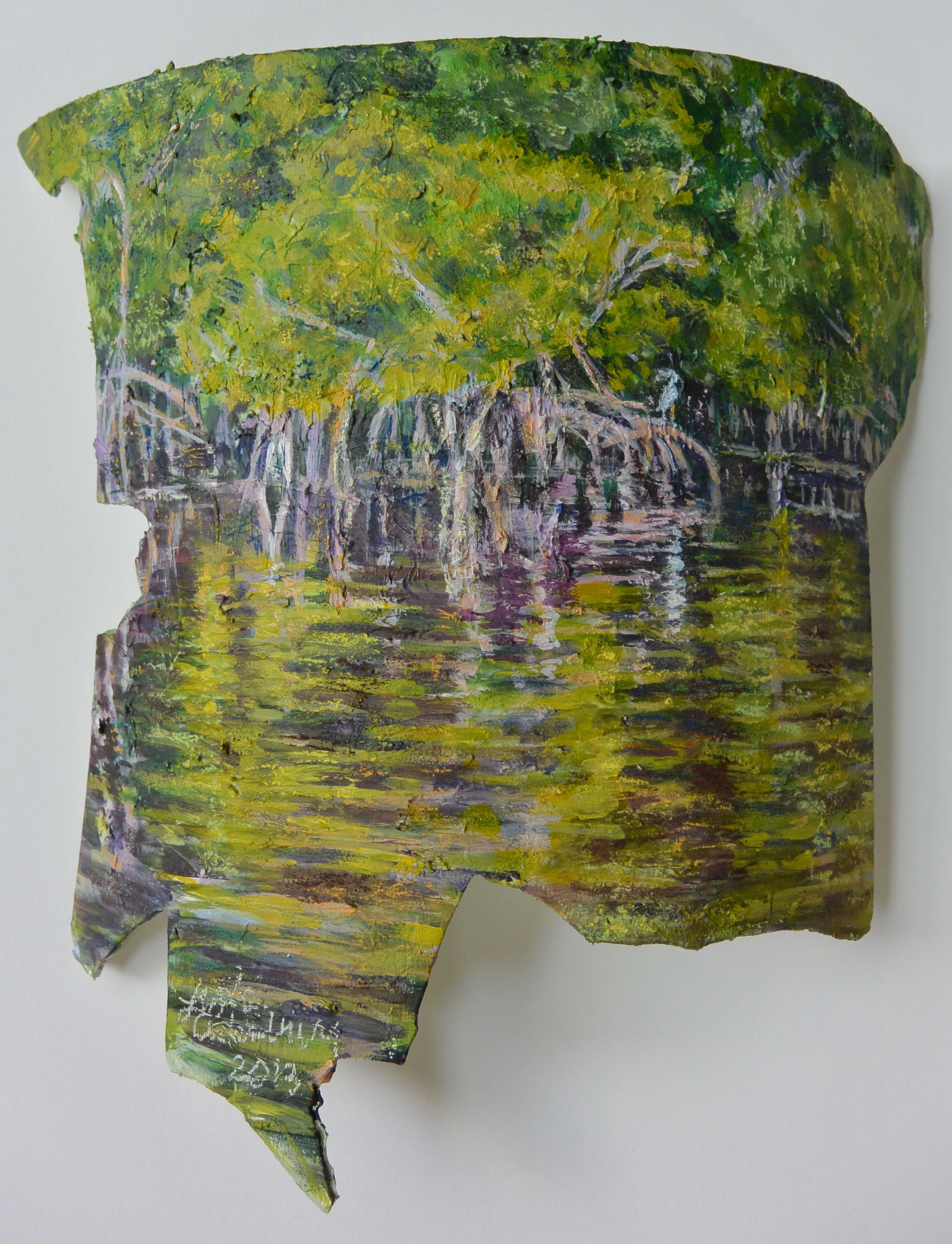 News Release Date:
August 21, 2014
Contact: Gary Bremen, 305-230-1144, x007
Painter and Miami-Dade County school teacher Linda Oldenburg's paintings on marine debris will fill Biscayne National Park's Dante Fascell Visitor Center Gallery starting September 12, 2014. Upcycled: Canvases from the Sea features park scenery created in acrylics and pastels on actual pieces of flotsam and jetsam found by Oldenburg and park staff. On Sunday, September 14, the public is invited to a free "Meet the Artist" reception —featuring refreshments and a talk by the artist —from 1:00 to 3:00 p.m. The event will also include a brief presentation to the Coastal Cleanup Corporation, national winners of the National Park Service's 2013 Hartzog Award for Outstanding Volunteer Group. The Gallery is located at 9700 SW 328 Street, 9 miles east of Homestead, Florida. The show is open daily from 9:00 to 5:00 through November 30, 2014. Admission is free.
"While I'm kayaking through Biscayne National Park the sights and sounds of the water and air entrance and inspire me," writes Oldenburg. "Unfortunately, the beauty is often obstructed by garbage that has accumulated on the shore and litters the mangrove forest. This series of paintings expresses how the light and colors of the water, sky, and land interact harmoniously, but are interrupted by man's impact on the environment."
For this show, Oldenburg has taken these "interruptions" and given them new life as art. "I want to show evidence of the art making process and create a rich tactile surface, which is also determined by the texture of the piece," she said. "Landscapes that I chose to paint on each item were influenced by the size and shape of the found object.
A native of La Crosse, Wisconsin and a graduate of the Milwaukee Institute of Art and Valparaiso University, Oldenburg has been teaching art to all levels for over 20 years. She currently teaches at Citrus Grove Elementary in Little Havana, where she inspires her students in both art and in life. Other works can be viewed on her website at LindaOldenburg.com.
Upcycled: Canvases from the Sea is part of the park's Community Artists Program, started in 1997 as an outlet for the works of artists who are inspired by the beauty of Biscayne National Park. The program is made possible by the South Florida National Parks Trust through the generosity of Sedano's Supermarkets and the Miami-Dade County Division of Cultural Affairs and the Cultural Affairs Council, the Miami-Dade County Mayor and Board of County Commissioners.
For more details about the exhibit, visit the park's website at www.nps.gov/bisc or contact park ranger Gary Bremen at 305-230-1144, x007. For regular updates from the park, "like" us on Facebook at www.Facebook.com/BiscayneNPS, or follow us on Twitter at www.Twitter.com/BiscayneNPS.
-NPS-
About the National Park Service: More than 20,000 National Park Service employees care for America's 401 national parks and work with communities across the nation to help preserve local history and create close-to-home recreational opportunities. Learn more at www.nps.gov.