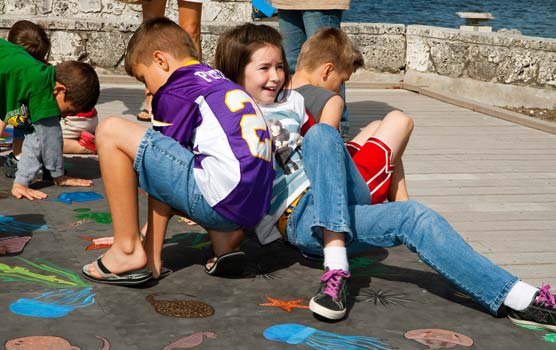 News Release Date:
February 11, 2009
Contact: Gary Bremen, 305-230-1144, x3084
Contact: Susan Gonshor, 305-230-1144, x3019
For 10,000 years, people have spent time on the waters and islands of Biscayne National Park. Who were they? What did they do? What did they leave behind? The third installment of the 2009 Family Fun Fest season at Biscayne National Park will shed some light on the park's shadowy past on Sunday, March 8, 2009 at the park's Dante Fascell Visitor Center from 1:00 to 4:00 p.m. The free event features stations located around the visitor center that provide a variety of interactive and hands-on activities, including:
Shake it Up!

— Become an archaeologist as you carefully sift through evidence left behind thousands of years ago.

All in a Day's Work

— Chores sure were different today than they were 120 years ago!

Gone Fishin'!

— Lancelot Jones was one of the most famed fishing guides on Biscayne Bay, but what made him so successful?

Mapping Brenda Lee

— Making a map can be pretty tough. Now imagine doing it underwater!

Build-a-Boat

— Make your own boat! Will it wreck or will it float?
Participants will receive a paper passport to be punched at each station as they complete the activities. Those who complete all five activities will earn a special button to help remember the day, and those who earn five buttons in a season will receive a Family Fun Fest Fanatic award in May.
Family Fun Fest takes place on the second Sunday of every month from January through May. Due to a conflict with Easter, the April event will take place on the first Sunday of that month (April 5). The series is made possible through a grant from the Captain Bob Lewis Boat Center Yamaha Billfish Challenge and the Bobby Duryea Memorial Fund at the South Florida National Parks Trust. Additional support this month comes from the Biscayne Bay Aquatic Preserves, The Florida Keys National Marine Sanctuary, Florida Public Archaeology Network at Florida Atlantic University, and a host of dedicated volunteers.
Future Family Fun Fest events in the 2009 season are:
Spring has Sprung!

— April 5 (NOTE DATE CHANGE TO FIRST SUNDAY!)




What's the real story behind those bunnies, baskets and colored eggs?




A Salute to Mom!

— May 10




Celebrate Mother's Day with a tribute to some of the park's best parents!
The Dante Fascell Visitor Center is located at 9700 SW 328 Street, nine miles east of Homestead, Florida. Call 305-230-7275, extension 0 for more information.