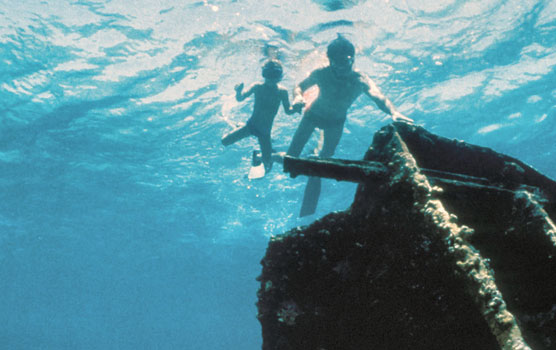 News Release Date:
April 13, 2011
Contact: Bryanne Senor, 305-230-1144, x004
In honor of National Park Week, Biscayne National Park will be offering a free Junior Ranger Day family snorkeling trip on Saturday, April 23, from 10-4:30. Selected participants will work on their Biscayne National Park Junior Ranger badge requirements in the morning, and go snorkeling with a ranger in the afternoon.
Since boat space is limited, potential participants need to apply for the opportunity. Applications should include name, address, phone number, age, and a statement indicating why they want to come snorkeling with a family member in Biscayne National Park. Applicants must be between the ages of 8 and 16. In order to allow as many Junior Rangers on board as possible, a maximum of one adult is allowed per child, but exceptions may be permitted on a case-by-case basis. Applications can be submitted by mail to Bryanne Senor, Biscayne National Park, 9700 SW 328 Street, Homestead, FL 33033, or by e-mail to Bryanne_Senor@nps.gov. Applications can also be dropped off in person at the Dante Fascell Visitor Center. Applications are due by Monday, April 18th at 5:00pm. Successful applicants will be contacted on Wednesday, April 20th. Current Junior Rangers with a badge are welcome to apply, but will not be required to attend morning sessions if accepted.
The Dante Fascell Visitor Center is located at 9700 SW 328 Street, nine miles east of Homestead, Florida. Call 305-230-7275, extension 000 for more information.