Jones Family Historic District Listed on National Register of Historic Places
Date:
November 7, 2013
Contact:
Charles Lawson
, 786-335-3676
Contact:
Matt Johnson
, 786-335-3679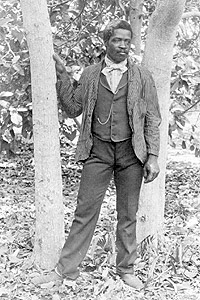 Updated 1/7/2022: For more information on the Jones Family District, contact Josh Marano at joshua_marano@nps.gov or Dani Cessna at dani_cessna@nps.gov

The Jones Family Historic District located in Biscayne National Park and including the former home and farm of Israel Lafayette Jones and his family, is now listed on the National Register of Historic Places. The listing, which occurred on October 23, 2013, puts the newly declared district on the official list of the nation's historic places worthy of preservation.
For nearly a century the Jones family thrived on Porgy Key and other islands at the southern end of Biscayne National Park. What was originally a $300 land investment for Israel "Parson" Jones was resold for over a million dollars almost a hundred years after his family first settled there. The story is all the more astonishing considering African-Americans living in the south in the early 20th-century found it difficult just to make a living, much less become millionaires.
"The inspiring story of the Jones family is the impetus behind this historic district and partly why Biscayne National Park was featured in the 'America's Best Idea' series by Ken Burns," declared Park Superintendent Brian Carlstrom. "The designation of the historic district is a very significant accomplishment and great news for the park and its neighbors."
The Jones Family Historic District is comprised of resources contained within two separate keys, Porgy Key and Totten Key. Porgy Key was the site of both the family's home and agricultural enterprises. At Porgy Key, Israel Jones grew fruits and vegetables to support his family and pineapples and key limes as a business. Jones purchased Porgy Key in 1897. After a deadly storm forced many pineapple farmers to abandon their properties, Jones purchased Totten Key where he expanded his key lime production with the assistance of his sons. Motivated by the belief that the area should be preserved, descendants of Israel Jones including Lancelot and his sister-in-law Kathleen, sold their share of the island to the National Park Service in 1970. Made up of more than 277 acres, the National Park Service paid them $1.2 million. Lancelot fished with many notable people during the forties and fifties, including Herbert Hoover, Lyndon Johnson, Bebe Rebozo and Richard Nixon. He was often hired as the guide to many of their wealthy and influential friends who visited the area before it became a national park. Lancelot Jones was granted the right to live out his remaining years in the family home.
Authorized by the National Historic Preservation Act of 1966, the National Park Service's National Register of Historic Places is part of a national program to coordinate and support public and private efforts to identify, evaluate, and protect America's historic and archeological resources.
For additional information about the park, visit www.nps.gov/bisc. For regular updates from the park "like" us on Facebook at www.facebook.com/biscaynenps, or follow us on Twitter at www.twitter.com/biscaynenps.
Last updated: January 7, 2022