Date:
October 28, 2010
Contact:
Gary Bremen
, 305-230-1144, x007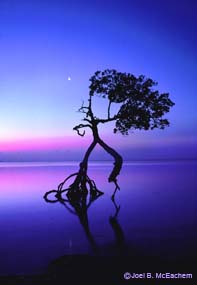 Conversations with the Light is the next show at Biscayne National Park's Dante Fascell Visitor Center Gallery. The show features the natural light photography of Joel B. McEachern, taken on film without flash or digital manipulation of any kind. The show runs from Friday, December 3, 2010 through Sunday, February 27, 2011, with a "Meet the Artist" opening reception slated for Friday, December 3 from 7-9 p.m. The reception is hosted in association with The Florida International University Alumni Association. The Gallery, located at 9700 SW 328 Street, near Homestead, Florida, is open seven days a week from 9-5. Admission is free.
For nearly 30 years, McEachern has been documenting Florida's fragile and disappearing ecosystems, from Biscayne Bay and the Everglades, to Central Florida's forests, rivers and prairies. His work is often accomplished in the wee hours of the morning, a time of constant change. Dawn's light flows across the sky and through the landscape…a tinge of purple here, a flush of pink over there. "Florida's light is like an old friend…we have some great conversations," says McEachern.
Born in Miami and a third-generation native Floridian, McEachern's work has appeared in exhibitions around the world, including London's Saatchi Gallery, Pittsburgh's Carnegie Museum of Natural History, and the Boca Raton Museum of Art, among many others. His photos have been featured in magazines and online publications, including Earth, Tropic, Camera and Darkroom, Rangefinder, ZOOM/Italy, Terrain.org and Wild Earth Journal. He is a graduate of Florida International University, and lives with his wife Stacy in Mount Dora, Florida.
Conversations with the Light is part of the park's Community Artists Program, started in 1997 as an outlet for the works of both established and emerging artists who are inspired by the beauty of Biscayne National Park. The program is made possible by the South Florida National Parks Trust through the generosity of The First National Bank of South Florida, Sedano's Supermarkets and the Miami-Dade County Division of Cultural Affairs and the Cultural Affairs Council, the Miami-Dade County Mayor and Board of County Commissioners.
The opening reception will be held in association with the Alumni Association of Florida International University, McEachern's alma mater. The FIU Alumni Association is a membership organization whose mission is to serve the community of alumni, students, and friends by providing lifelong connections to FIU. For more information about the Alumni Association visit FIUAlumni.com.
For more details about the exhibit, contact park ranger Gary Bremen at 305-230-1144, x007. For regular updates from the park, follow us on Twitter at www.twitter.com/BiscayneNPS.