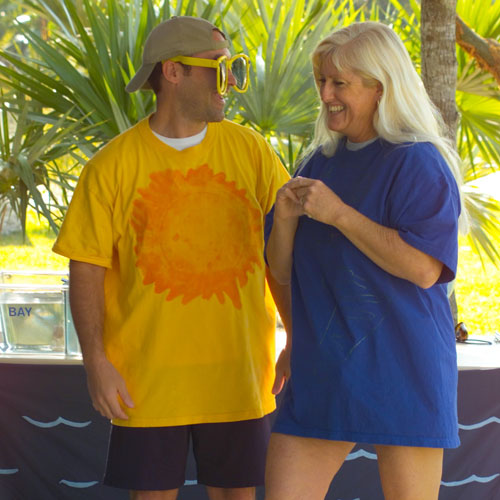 News Release Date:
April 8, 2013
Contact: Gary Bremen, 305-230-1144, x007
HOMESTEAD, FLORIDA - Starpower! has been the theme for the thirteenth season of Biscayne National Park's Family Fun Fest, and that season concludes on April 14, 2013 with a look at Earth's nearest star, the Sun. It's SUN-day! takes place from 1-4 p.m. at the Dante Fascell Visitor Center, located at 9700 SW 328 Street, 9 miles east of Homestead.
It's Sunday! will feature five hands-on and engaging activity stations located around the visitor center. Stations include:
Little Green Factories

- Plants take one set of materials and use the sun's light to convert them into another set, but how does the factory operate?

Block it!

- The sun does a lot of good, but it has its "dark side" too!

What's Cookin'?

- Learn to make a simple solar oven to take home to make dinner!

Sun Spots

- Three quick activities to give you a greater appreciation for our nearest star!

In the News

- Does living in a greenhouse sound good to you? Ummmm…think again!
Participants receive a passport to get stamped at each activity station, and those who complete all five activities will earn a specially-designed button to remember the day. Those who have earned all five buttons this season, and can prove it by presenting buttons from all 4 previous events PLUS this one, will be given the Family Fun Fest Fanatic award!
Family Fun Fest's Season 13: Starpower! is made possible through generous donations from park visitors and the Bobby Duryea Fund at the South Florida National Parks Trust, with additional support from the Biscayne Bay Aquatic Preserves, the University of California's Center for Science Education/Space Sciences Laboratory, and a host of dedicated volunteers.
The Dante Fascell Visitor Center is located at 9700 SW 328 Street, nine miles east of Homestead, Florida. Call 305-230-7275, extension 0 for more information. For regular updates from the park, "like" us on Facebook at www.Facebook.com/BiscayneNPS and "follow" us on Twitter at www.twitter.com/BiscayneNPS.