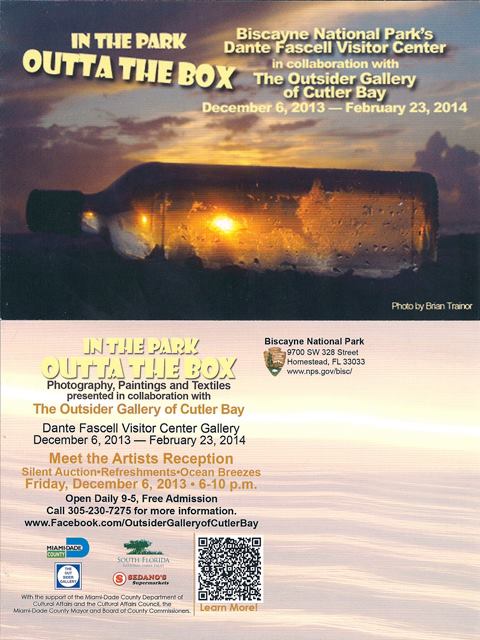 News Release Date:
November 21, 2013
Contact: Gary Bremen, 305-230-1144, x007
In collaboration with The Outsider Gallery of Cutler Bay, Biscayne National Park will host an exhibit of outsider art inspired by the park from December 6, 2013 through February 23, 2014. In the Park, Outta the Box will feature photography, paintings and fiber art. A "Meet the Artists" Reception — featuring refreshments, a silent auction and a talk by the artists — will be held from 6:00 – 10:00 p.m. on Friday, December 6, at the Gallery located at 9700 SW 328 Street, 9 miles east of Homestead, Florida. The show is open daily from 9:00 to 5:00 through February 23, 2014. Admission is free.
In the Park, Outta the Box presents the beauty and seldom-seen aspects of the park in both unique and traditional ways. A sunrise viewed through a discarded bottle becomes a composition reflecting both beauty and sadness. A close up of Elliott Key's rocky shoreline takes on the canyon-like appearance of one of Biscayne's sibling parks in the American Southwest. Shell-less snails are interpreted in fabric, revealing their intrinsic beauty in ways more traditional art forms miss.
The Outsider Gallery of Cutler Bay, established earlier this year, routinely hosts shows of art on the edge — "outsider art" — from both established and emerging artists. A portion of the proceeds from the Outsider Gallery's sales is contributed to various charities. "The artists from The Outsider Gallery are honored to have this opportunity to work with the park and show their talent at the Dante Fascell Visitor Center Gallery," said Brian Trainor, one of the artists coordinating the gallery."
In the Park, Outta the Box is part of the park's Community Artists Program, started in 1997 as an outlet for the works of artists who are inspired by the beauty of Biscayne National Park. The program is made possible by the South Florida National Parks Trust through the generosity of Sedano's Supermarkets and the Miami-Dade County Division of Cultural Affairs and the Cultural Affairs Council, the Miami-Dade County Mayor and Board of County Commissioners.