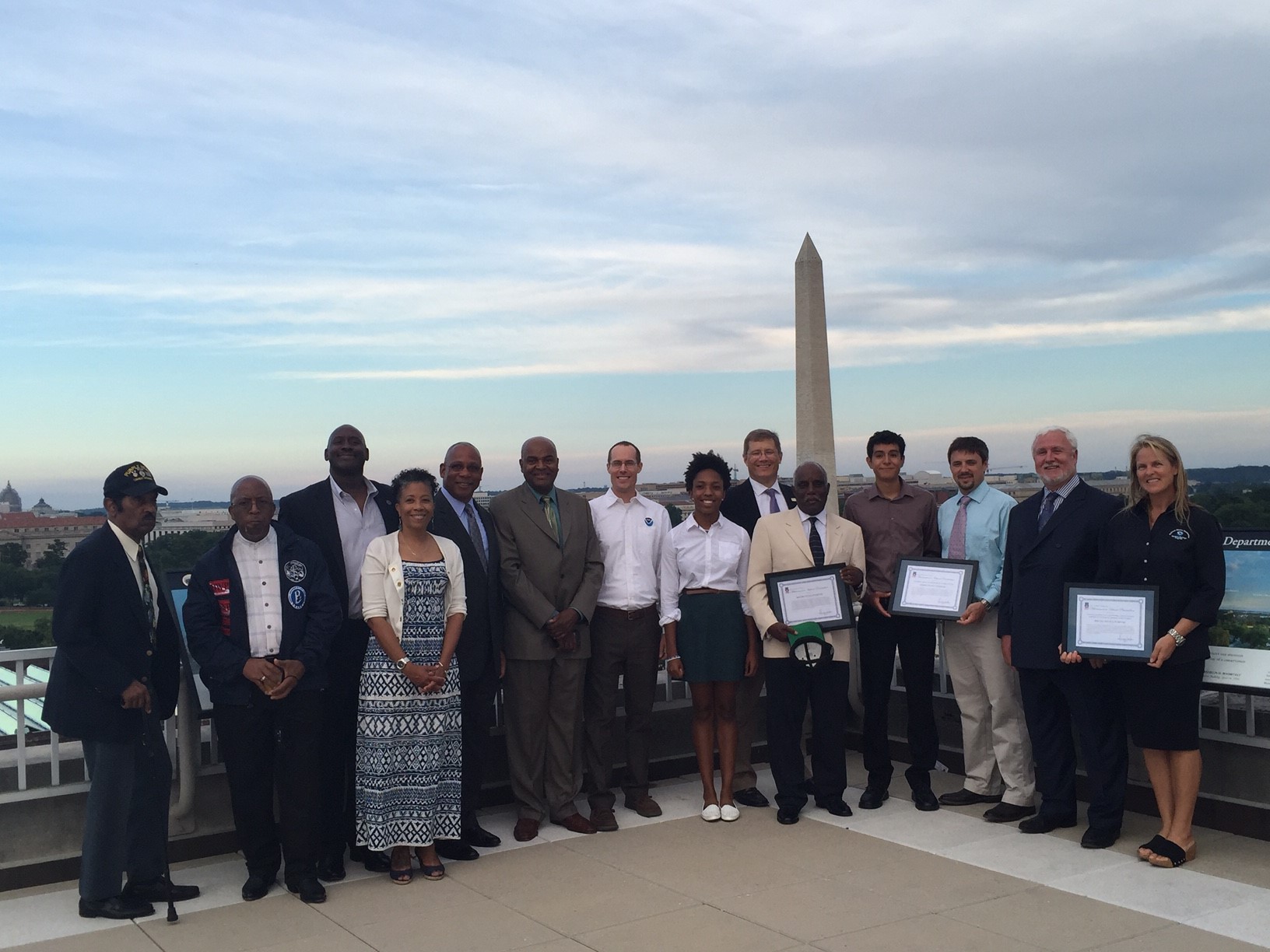 News Release Date:
July 15, 2015
Contact: Matt Johnson, 786-335-3679
HOMESTEAD, Fla. --- Yesterday a Chairman's Award for Achievement in Historic Preservation was presented to Biscayne National Park and partners by the Advisory Council on Historic Preservation. Park partners and recipients of the award include Diving With a Purpose, the National Association of Black Scuba Divers, and the National Oceanic and Atmospheric Administration.
"Dedicated and engaged professionals are doing extraordinary things for the park and bringing more people, most importantly young people, into the field of historic preservation," said Superintendent Brian Carlstrom. "They are assisting the park in fulfilling key stewardship provisions of the National Historic Preservation Act and helping people better understand the full, rich history of the park, and I am delighted and proud that they are being recognized for their efforts."
The Diving With a Purpose program trains volunteer marine advocates to assist in the stewardship of heritage assets in national parks and marine sanctuaries, and introduces young people to maritime careers. The program was created in 2003 by Kenneth B. Stewart and the late Brenda Lanzendorf to assist the park in managing its submerged heritage sites. The Diving With a Purpose program trained more than a hundred people who documented fourteen shipwrecks and contributed more than 15,000 hours of work. Both the program and its volunteer efforts are growing exponentially. Diving With a Purpose program volunteers work with the Florida Keys National Marine Sanctuary as well as at other National Park Service and National Oceanic and Atmospheric Administration sites. In 2014 the program was recognized as a Preserve America Steward by First Lady Michelle Obama.
Tribute was paid at the awards ceremony to Brenda Lanzendorf. She was once the sole marine archaeologist at Biscayne National Park. She was the inspiration for the Diving With a Purpose program and deeply involved in the search for the resting place of the slave ship Guerrero, lost in 1827 and still not relocated. Lanzendorf died from cancer in 2008.
The Advisory Council on Historic Preservation is an independent federal agency that promotes the preservation, enhancement, and productive use of our nation's historic resources, and advises the President and Congress on national historic preservation policy. The Chairman's Award for Achievement in Historic Preservation highlights outstanding historic preservation practices.
For more information about Biscayne National Park please visit the park website at www.nps.gov/bisc or follow the park on Facebook at www.facebook.com/biscaynenps, Twitter at www.twitter.com/biscaynenps or Instagram at www.instagram.com/biscaynenps.
-BISC-
About the National Park Service. More than 20,000 National Park Service employees care for America's 408 national parks and work with communities across the nation to help preserve local history and create close-to-home recreational opportunities. Learn more at www.nps.gov.