Historic Boca Chita Key Lighthouse Undergoing Repairs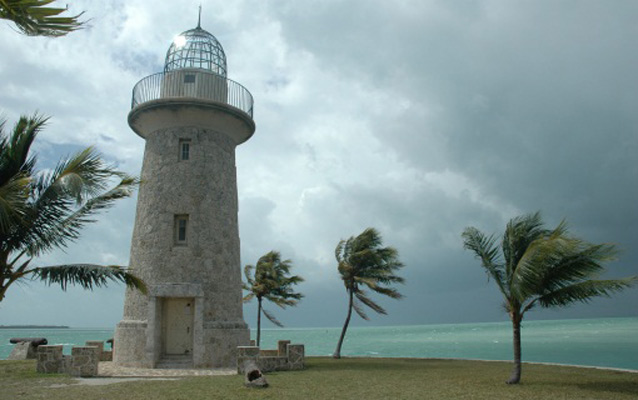 News Release Date:
July 15, 2013
Contact: Matt Johnson, 305-230-1144, x050
The dome of Boca Chita lighthouse in Biscayne National Park is being replaced resulting in the closure of the structure to the public at least through August 27, 2013. The repairs are necessary because panels in the dome were broken and unable to withstand the weather.
The iconic and historic lighthouse is located on Boca Chita Key in Biscayne National Park. Removing and replacing the lighthouse dome is part of restoration work being done on the structure. The 75 year old lighthouse is part of an inventory of historic structures cared for by the park that includes other buildings in the Boca Chita Key National Historic District, ruins of homesteading settlements on many of the park's islands and the Fowey Rocks lighthouse.
As part of the restoration work the dome of the lighthouse is being upgraded with hurricane-proof glass, its structure is being repainted, and new vents are being installed to allow air to flow through the lighthouse when needed. The dome is being transported to the mainland in order for the restoration work to be accomplished. Work began on July 15, 2013, and is scheduled to be completed by August 23, 2013. Visitors to the island will not have access to the lighthouse during this time. The restoration work is being done by a private contracting firm, Team Henry, which recently repaired steps leading to the top of the lighthouse. Money for the project is provided by the federal government.
The lighthouse was originally built under the direction and influence of millionaire Mark Honeywell who purchased Boca Chita Key in 1937. It was designed and constructed by a local firm. The lighthouse was never meant to guide ships to safe passageways yet draws them instead to the beauty and wonders of Biscayne National Park.
Because of the historic significance of the lighthouse and its location within the boundary of Biscayne National Park, the National Park Service maintains the lighthouse in accordance with the Secretary of the Interior's Standards for the Treatment of Historic Properties to restore the structure, protect it from deterioration, and provide for visitor access perhaps as soon as the end of August, 2013.
For additional information about the park, visit www.nps.gov/bisc. For regular updates from the park, "like" us on Facebook at www.Facebook.com/BiscayneNPS, or follow us on Twitter at www.Twitter.com/BiscayneNPS.
-NPS-
Last updated: April 14, 2015