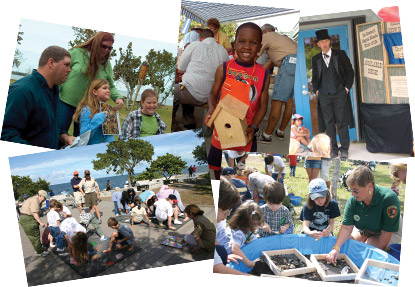 News Release Date:
November 28, 2011
Contact: Gary Bremen, 305-230-1144, x007
Biscayne National Park has announced the dates and themes for the 12th season of its popular Family Fun Fest series. The announcement comes on the heels of the program being recognized by the United States Coral Reef Task Force for "creative and effective interpretation efforts…over the years." That recognition marked the program's fourth award over its 11 year history. The new season kicks off on Sunday, December 11, 2011 at the park's Dante Fascell Visitor Center. The event is free and takes place from 1:00 to 4:00 p.m. on the second Sunday of every month from December through March, and on the third Sunday of April (to avoid a conflict with the Easter holiday).
Each Family Fun Fest event focuses on a particular theme highlighting some aspect of the park's diverse resources. Every month, participants receive a passport which they get punched as they complete each of five activities located on the grounds around the Dante Fascell Visitor Center near Homestead. Activities include games, science experiments, presentations and craft projects. After collecting all five punches, kids earn a specially designed button to remember the lessons learned. With Myth, Magic and Mystery as the year's overarching theme, the five exciting and innovative new sub-themes will be:
Hairy Otter and the Magical Ocean - December 11, 2011 - 1 - 4 p.m.
Biscayne National Park kicks off another year of Family Fun Fest with a new spin on one of the most popular series of children's novels of all time! Spend an afternoon at Hogfishwarts Castle learning about Potions (seawater chemistry), Herbology (marine plants), "Defense Against the Dark" Art (bioluminescence) and Transfiguration (animal metamorphosis). Just for fun, we'll even throw in a game of "Squidditch!" Don't forget to dress the part!
Poseidon and Pals - January 8, 2012 - 1 - 4 p.m.
The Romans, the Greeks, the Norse…every culture has an ocean mythology. Meet Biscayne's mermaids, discover the real underwater city of Atlantis, get up close and personal with a real live medusa, and get a glimpse at how ancient people explained natural occurrences like tides and seafoam. Togas and viking helmets welcome!
Animal Superpowers - February 12, 2012 - 1 - 4 p.m.
Batman, Catwoman and Spiderman all have their place, but the real stories behind the superpowers of some of Biscayne's animals will blow you away! Meet a magical sponge, interview a globetrotting turtle, listen in on a seahorse "conversation," try to match the sharpshooter-accuracy of a cone snail, and more!
Biscayne Wrecktacular! - March 11, 2012 - 1 - 4 p.m.
Biscayne's waters hide the evidence of dozens of unfinished ship voyages. Why did they wreck? What were the people aboard doing? What mysteries can shipwrecks help us understand today? Dive in to discover the mysteries of the deep from 5 wrecks along the park's Maritime Heritage Trail.
Skeleton Crew - April 15, 2012 - 1 - 4 p.m.
(A WEEK LATER THAN USUAL DUE TO EASTER)
Grab your crackers, because that CHEESY used bone salesman is back! Take a look inside all kinds of critters, from corals and fish to manatees and dolphins, to see what makes them "upstanding" citizens of the Biscayne National Park community.
Family Fun Fest is made possible through a generous grant from the Captain Bob Lewis Billfish Challenge and the Bobby Duryea Fund at the South Florida National Parks Trust, with additional support from the Biscayne Bay Aquatic Preserve, a variety of other local agencies and businesses, and a host of dedicated volunteers.
The Dante Fascell Visitor Center is located at 9700 SW 328 Street, nine miles east of Homestead, Florida. Call 305-230-7275, extension 0 for more information. For regular updates from the park, "like" us on Facebook at www.Facebook.com/BiscayneNPS and "follow" us on Twitter at www.twitter.com/BiscayneNPS.