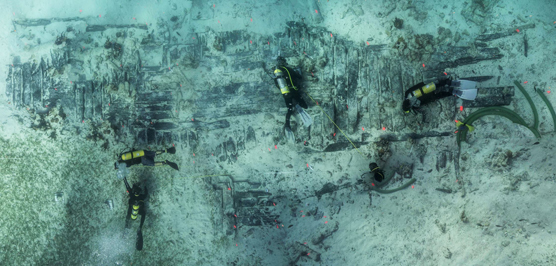 News Release Date:
August 27, 2013
Contact: Stanley Bond, 202-354-2123
Contact: Mike Litterst, 202-513-0354
Contact: Charles Lawson, 305-230-1144, x067
An 18th-century British warship that sank in 1748 near present-day Miami is now protected by the National Park Service under terms of an international memorandum.
"This agreement underscores the significance that our agency and the British Royal Navy place on cultural resources," said National Park Service Director Jonathan B. Jarvis. "In addition to preservation of this important site, the formal memorandum of understanding is the basis for future cooperative projects."
Commodore Eric Fraser of the British Royal Navy represented the United Kingdom of Great Britain and Northern Ireland in signing the Memorandum of Understanding to protect the sunken ship HMSFowey. The wreck is located in Biscayne National Park.
"The United Kingdom is hugely grateful for the professional diligence and care shown by the National Park Service in the protection of the historic wreck of HMS Fowey," said Fraser. "This memorandum will see UK and US organizations working closely together in the further exploration of the site and it sets an excellent framework for collaboration in future projects."
On June 27, 1748, HMS Fowey, a fifth rate frigate, struck a coral reef and sank, coming to rest on the sea bed.The wreck was discovered inside the park by a local sport diver in the 1970s. National Park Service divers later identified the wreck as that of HMS Fowey.
Jarvis said the HMS Fowey site is a nationally significant archeological resource, listed in the National Register of Historic Places. "As an archeological site it continues to provide information about 18th-century maritime life and the historic maritime landscape of South Florida."
The memorandum of understanding recognizes British title to the wreck and the intention of the National Park Service to continue to care for it in accordance with its own policies, the Sunken Military Craft Act of 2004, and the UNESCO convention on Underwater Cultural Heritage. The National Park Service and the British Navy will also exchange information and consult on management and future preservation of the site.
Biscayne National Park Superintendent Brian Carlstrom described the value that the agreement would have for the park and its resources, saying, "This is the latest step in the continuing preservation effort for Fowey, and solidifies our relationship with the British people in protecting our shared heritage for the enjoyment and education of future generations."
Although the wreck is closed to the public, the National Park Service Submerged Resources Center produced a video tour which is available at http://vimeo.com/72920037