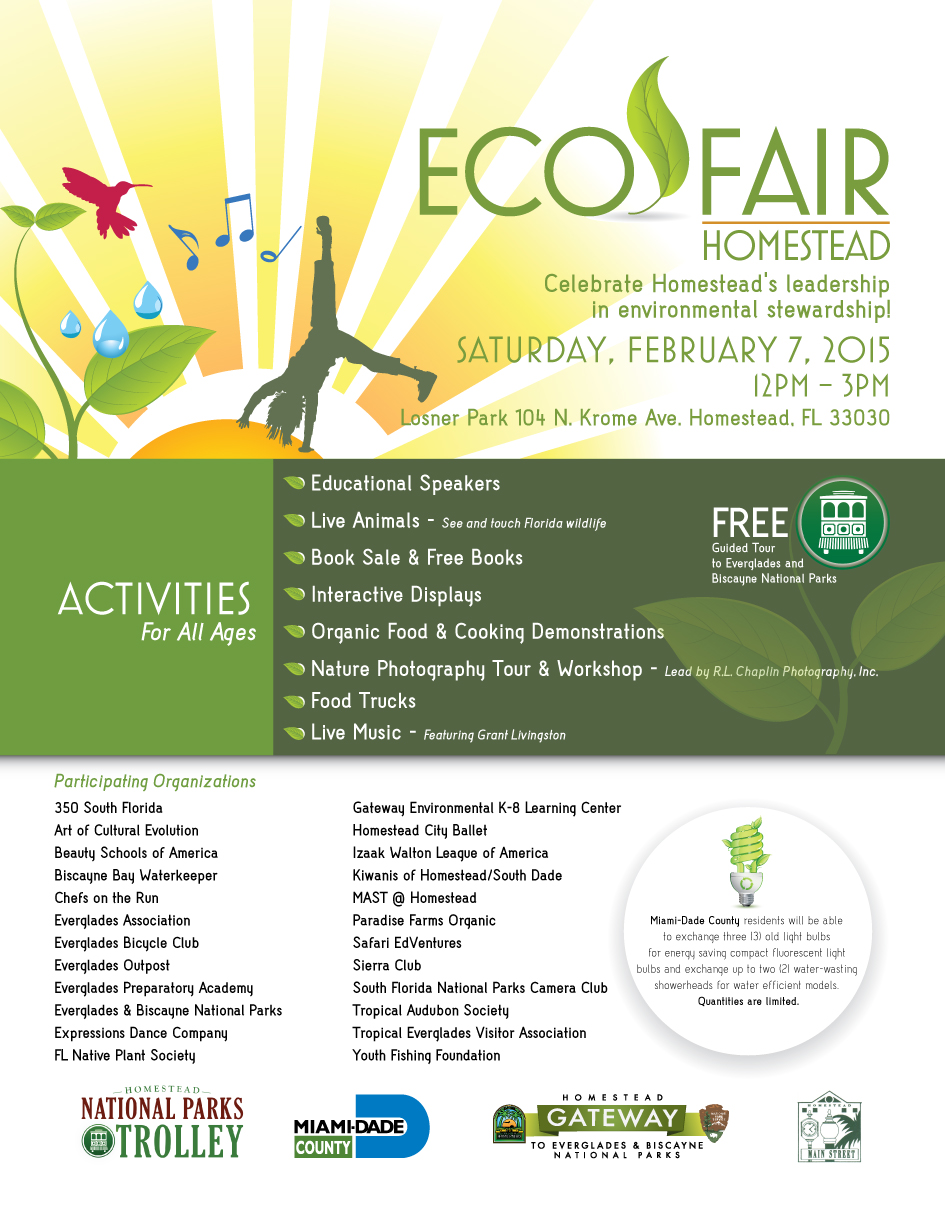 News Release Date:
January 30, 2015
Contact: Matt Johnson, 786-335-3679
HOMESTEAD, FLORIDA –The first annual Homestead Eco-Fair will take place on Saturday, February 7, 2015 from 12:00 noon to 3:00 p.m. at Losner Park in downtown Homestead. It will be a perfect day to enjoy several free activities with the family.
The event will feature educational speakers, demonstrations, live music, animals, food trucks and more. Visitors will learn about South Florida's national parks and participate in fun activities throughout the afternoon. The Homestead Eco-Fair, organized by the City of Homestead in partnership with Homestead Main Street, is a chance for residents and visitors to connect with nature and celebrate the trolley partnership and the City of Homestead's leadership in environmental stewardship.
Visitors to the Eco-Fair will also be able to combine their fun-filled day with free rides to Biscayne and Everglades National Parks. The Homestead National Parks Trolley, which provides free ranger-guided tours to both parks, will also have special nature photography tours on some of the trolley routes, presented by the South Florida National Parks Camera Club.
A variety of fun and educational activities will be featured at the Eco-Fair. Live music will be provided by Grant Livingston, a local folk singer, and the Homestead City Ballet and Expressions Dance Company will also be performing. Educational speakers and demonstrations include the Youth Fishing Foundation, which will host a special fishing demonstration for kids. Eco-Fair visitors may connect with area environmental organizations through a series of interactive displays, including the opportunity to see and touch friendly Florida animals. The National Park Service will have a canoe at the Eco-Fair and will be providing paddling demonstrations. For book-lovers there will be a book giveaway thanks to Kiwanis of Homestead/South Dade. Eco-Fair visitors may also enjoy delicious cuisine and cooking demonstrations from local chefs and food trucks.
County residents may exchange up to three old light bulbs for energy saving, compact fluorescent light bulbs and up to two water-wasting showerheads for more efficient models. This service is made possible due to the support of the Miami-Dade County Extension Office.
"The City of Homestead's Gateway Initiative actively supports Biscayne and Everglades National Parks," said Homestead Vice-Mayor Stephen Shelley. "It also demonstrates our long-standing commitment to ensuring a high quality environment for residents and future generations."
Losner Park is located at 104 N. Krome Avenue in downtown Homestead.
For a list of participating organizations in the Eco-Fair or for more information on the Homestead National Parks Trolley, please visit www.cityofhomestead.com/gateway. The Homestead National Parks Trolley service regularly runs every weekend through April 26, 2015. For more information about Biscayne National Park, please visit the park website at www.nps.gov/bisc. For more information about Everglades National Park, please visit the park website at www.nps.gov/ever. Everglades National Park provides free admission to all trolley riders to visit the Anhinga Trail.
-NPS-
About the National Park Service: More than 20,000 National Park Service employees care for America's 401 national parks and work with communities across the nation to help preserve local history and create close-to-home recreational opportunities. Learn more at www.nps.gov