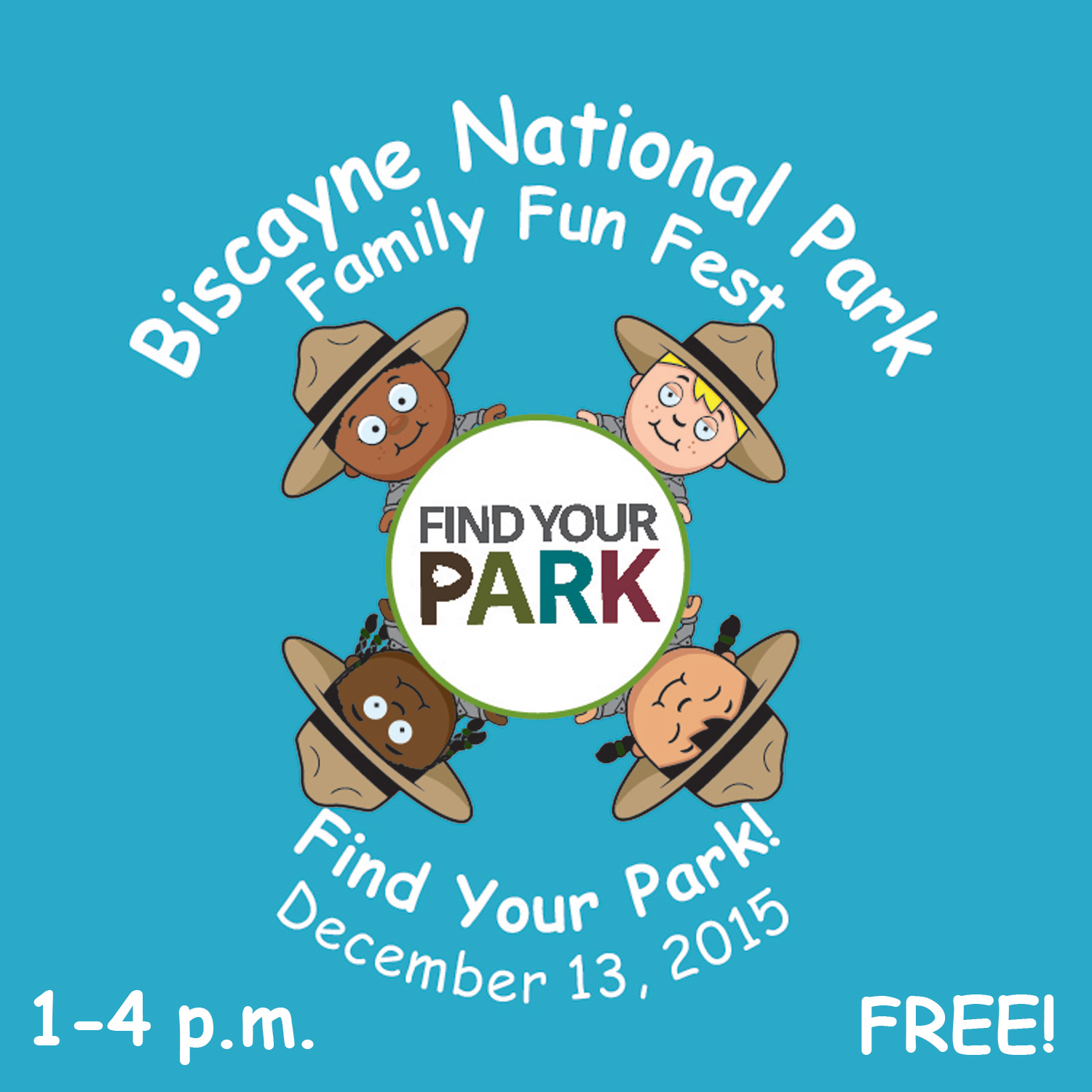 News Release Date:
December 9, 2015
Contact: Gary Bremen, 305-230-1144 x007
HOMESTEAD, Fla. --- From deserts to oceans, mountains to valleys, giant statues to ancient dwellings, national parks protect the very best of America's nature, history and recreational opportunities. On Sunday, December 13 from 1- 4 pm, Biscayne National Park will kick off the 16th season of the award-winning Family Fun Fest with "Find Your Park," a hands-on overview of just a few of America's 409 national parks. The event also offers educational opportunities for parents with toddlers at Family Fun Fest Junior. The free event takes place at the park's Dante Fascell Visitor Center, 9 miles east of Homestead. Free trolley service to the park is provided by the City of Homestead from downtown's Losner Park.
"Find Your Park" will feature five hands-on and engaging activity stations located around the visitor center. Stations include:
National Parks Traveler

– Journey on an enormous map to discover seven national parks you've probably never heard of!

Park Quest

– Follow national parks artist Pat Cummins' quest to paint the parks.

It's Elementary

– Sherlock Holmes and Watson solve the "crime" of the century!

My National Parks Book

– Every national park is unique . . . just like fingerprints!

Mini-Park

– Do you have what it takes to protect a national park?!

Find Your Park Junior

– A special station for parents with toddlers!
Participants receive a passport to get stamped at each activity station, and those who complete all five activities (or two activities for Family Fun Fest Junior participants) will earn a specially-designed button to remember the day. Earning all five buttons in a season earns a Family Fun Fest Fanatic award in April.
Subsequent events throughout the 2015-2016 season look at more specific topics that also relate to Biscayne National Park:
I'm on a Boat!

– January 10, 2016 – Head out to explore maritime history at ocean, coastal and Great Lakes parks.

My Fellow Americans

– February 14, 2016 – Discover Biscayne's presidential connections!

Wild for Wildlife!

– March 13, 2016 – wolves and bears and dinosaurs? Oh my!

Parks and Recreation

– April 10, 2016 – How many ways are there to have fun in a national park? How high can you count?
Family Fun Fest is made possible through the donations of generous visitors and the Bobby Duryea Fund at the South Florida National Parks Trust, with additional support from the Biscayne Bay Aquatic Preserves, The Macaulay Library at the Cornell Lab of Ornithology, Roger Williams National Memorial, Pipestone National Monument, Yosemite National Park, Great Basin National Park and a host of dedicated volunteers.
The Dante Fascell Visitor Center is located at 9700 SW 328 Street, nine miles east of Homestead, Florida. For more information about Biscayne National Park visit nps.gov/bisc or follow the park on Facebook, Twitteror Instagram at "biscaynenps."
---NPS---
About the National Park Service. More than 20,000 National Park Service employees care for America's 409 national parks and work with communities across the nation to help preserve local history and create close-to-home recreational opportunities. Learn more at www.nps.gov.