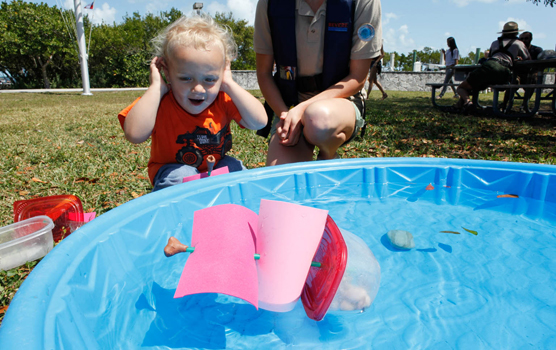 News Release Date:
March 29, 2012
Contact: Gary Bremen, 305-230-1144, x007
Take a look inside all kinds of critters, from corals and fish to manatees and dolphins at Skeleton Crew, the final 2011-2012 installment of Biscayne National Park's multi-award winning Family Fun Fest. The free event takes place from 1-4 pm on April 15 (ONE WEEK LATER THAN USUAL DUE TO EASTER) at the park's Dante Fascell Visitor Center, 9 miles east of Homestead.
Family Fun Fest participants receive a passport that will guide them through five hands-on and engaging activity stations located around the visitor center. Stations include:
Years in My Ears - Figure out a fish's age from the bones in its ears, and learn how scientists are using this information to understand the spread of lionfish.
Parts is Parts - Does a manatee have a pelvis? How is your skull different from a pelican's?
Used Bones for Sale - Meet a fast-talking, cheesy salesman who actually knows a whole lot about bones.
Skeletal Carnival - Some of your favorite midway games, with a skeletal twist!
Strong Bodies, Strong Bones - Paddle your way to a strong, healthy skeleton!
Participants who complete all activities will earn a specially-designed button to remember the day. Those who earn this month's button, AND bring buttons from the four previous months will receive a Family Fun Fest Fanatic award. Fans of the park's Facebook page will also receive a clue to a special "Bonus Station" on the Facebook page on Sunday morning.
Family Fun Fest's Season 12: Myth, Magic and Mystery is made possible through a generous grant from the Captain Bob Lewis Billfish Challenge and the Bobby Duryea Fund at the South Florida National Parks Trust, with additional support from the Biscayne Bay Aquatic Preserves and a host of dedicated volunteers.
The Dante Fascell Visitor Center is located at 9700 SW 328 Street, nine miles east of Homestead, Florida. Call 305-230-7275, extension 0 or visit the park's website at www.nps.gov/bisc for more information. For regular updates from the park, "like" us on Facebook at www.Facebook.com/BiscayneNPS and "follow" us on Twitter at www.twitter.com/BiscayneNPS.