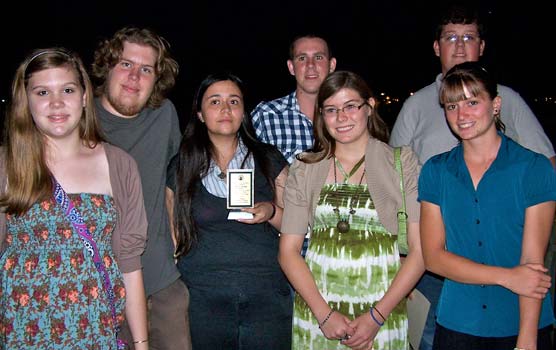 News Release Date:
May 11, 2011
Contact: Gary Bremen, 305-230-1144, x007
On May 9, seven young people were among those honored by the Sierra Club Miami Group with a "Green Award." The group represents the core of a team of student volunteers that help produce the park's multi-award-winning Family Fun Fest program. The honorees were Kyle Aulow, Natalie Buell, Jeremy Cole, Judith Cole, Katie Davis, Nicole Hunnewell and Kyle Stodard.
This is the 21st year that the awards have been presented to students for "Outstanding Achievement in Promoting Environmental Awareness." During the 2010-2011 Family Fun Fest season, these seven students helped reach nearly 850 participants with fun, hands-on educational experiences that offer something for the entire family.
For 11 years, Biscayne National Park's Family Fun Fest has been coordinated by park staff, but is essentially run by volunteers. One-third of the volunteers are former Family Fun Fest "kids" who felt too old to participate, but did not want to give up the program. By becoming volunteers themselves, these students bring the program full circle: from learning about the park to protecting it by helping others learn. They provide honest feedback about what does and does not work from a perspective not very far out of the age range of the typical participant. Additionally, they serve as role models to younger kids, and provide a youthful vigor that inspires staff and older volunteers alike.
Family Fun Fest takes place on the second Sunday of every month from December through April. The series is made possible through a generous grant from the Captain Bob Lewis Billfish Challenge and the Bobby Duryea Memorial Fund at the South Florida National Parks Trust. Additional support is provided each month by area businesses, organizations, government agencies and non-profits, as well as a host of dedicated volunteers.
For more details about the program, visit the park's website at www.nps.gov/bisc or contact park ranger Gary Bremen at 305-230-1144, x007. For regular updates, follow the park on Twitter at www.twitter.com/BiscayneNPS.