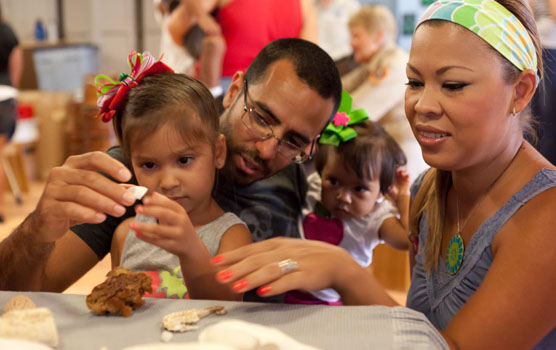 News Release Date:
November 5, 2012
Contact: Gary Bremen, 786-335-3628
Biscayne National Park has announced the dates and themes for the 13th season of its popular Family Fun Fest series. The new season kicks off on Sunday, December 9, 2012 at the park's Dante Fascell Visitor Center. The event is free and takes place from 1:00 to 4:00 p.m. on the second Sunday of every month from December through April.
Each Family Fun Fest event focuses on a particular theme highlighting some aspect of the park's diverse resources. Every month, participants receive a passport which they get punched as they complete each of five activities located on the grounds around the Dante Fascell Visitor Center near Homestead. Activities include games, science experiments, presentations and craft projects. After collecting all five punches, kids earn a specially designed button to remember the lessons learned. With Starpower! as the year's overarching theme, the five exciting and innovative new sub-themes will be:
American All-Stars - December 9, 2012 - 1 - 4 p.m.
Family Fun Fest takes a road trip to visit some great Americans memorialized at other National Parks across the country. Discover a few of the 300 uses for the peanut developed by George Washington Carver, learn what inspired Clara Barton to found the American Red Cross, design your own coin with sculptor Augustus Saint-Gaudens, and more. Come early to witness a special ceremony welcoming the next generation of Great Americans when kids become citizens of the United States!
Sea Star Wars - January 13, 2013 - 1 - 4 p.m.
A salute to one of the most popular film series of all time…with a twist! Join Luke Seawalker as you explore some seriously cool animal adaptations in the Mos Eisley Cantina, let Sea3PO and ROV2 help you operate your own underwater robot, and fight to defeat the Dearth Invader and his alien stormtroopers that threaten YOUR national park! Don't forget to dress the part!
A Salute to Hollywood - February 10, 2013 - 1 - 4 p.m.
Nothing shouts "stars" like Hollywood! Celebrate Oscars month with a look back at Biscayne's versions of some award winning films, including My Fair Lady, The Sting, On the Waterfront and Out of Africa. And no trip down the red carpet would be complete without Joan Oceans choosing the best and worst-dressed fish on the reef!
500 Years in the Sunshine State - March 10, 2013 - 1 - 4 p.m.
Biscayne National Park contains evidence of nearly 10,000 years of human history, but the name Florida doesn't come onto the scene until the spring of 1513. Retrace Florida's first 500 years through Ponce De Leon's discovery of the Gulf Stream, a Tequesta archaeological dig, shipwrecks from the great European powers, and more.
It's SUN-day! - April 14, 2013 - 1 - 4 p.m.
Family Fun Fest is always on a Sunday, but this month it's really SUN-day! Our nearest star is responsible for life on our planet by keeping us warm and supplied with oxygen and food through plants, but did you know the sun can also be used for cooking, creating electricity, and helping you fly a kite?
Family Fun Fest is made possible through a generous grant from the Captain Bob Lewis Billfish Challenge and the Bobby Duryea Fund at the South Florida National Parks Trust, with additional support from the Biscayne Bay Aquatic Preserve, a variety of other local agencies and businesses, and a host of dedicated volunteers.
The Dante Fascell Visitor Center is located at 9700 SW 328 Street, nine miles east of Homestead, Florida. Call 305-230-7275, extension 0 or visit the park's website at www.nps.gov/bisc for more information. For regular updates from the park, "like" us on Facebook at www.Facebook.com/BiscayneNPS and "follow" us on Twitter at www.twitter.com/BiscayneNPS.