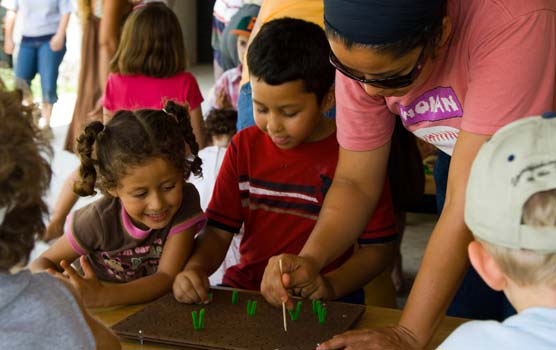 News Release Date:
January 17, 2011
Contact: Gary Bremen, 305-230-1144, x007
In 1898, Israel Lafayette Jones bought a plot of land on Biscayne National Park's Porgy Key, and built a home and a life for himself, his wife Mozelle, and his two sons King Arthur and Sir Lancelot. Celebrate Black History Month with a look back at the life, times and legacy of this pioneering African-American family at the February installment of Biscayne National Park's multi-award- winning Family Fun Fest! The free event takes place on Sunday, February 13, 2011 at the park's Dante Fascell Visitor Center from 1:00 to 4:00 p.m. Stations located around the visitor center provide a variety of interactive and hands-on activities, including:
Weaving with Mozelle —Weave a palm frond ornament Mrs. Jones would have loved!
Fishing with Lance — Good fishing guides have gotta know their stuff!
Planting with Parson — Farming pineapples and key limes was a Jones family specialty!
Wouldn't It be Nice? — Sometimes the stories of ordinary people can be pretty extraordinary.
Out of the Attic! — What is a historic object really worth?
Participants will receive a paper passport to be punched at each station as they complete the activities. Those who complete all five activities will earn a special button to help remember the day, and those who earn five buttons in a season will receive a Family Fun Fest Fanatic award in April.
Family Fun Fest takes place on the second Sunday of every month from December through April. The series is made possible through a generous grant from the Captain Bob Lewis Billfish Challenge and the Bobby Duryea Memorial Fund at the South Florida National Parks Trust. Additional support this month comes from the Biscayne Bay Aquatic Preserves, the South Florida Collection Management Center, and a host of dedicated volunteers.
Future Family Fun Fest events in the 2010-2011 season are:
Alien Invaders — March 13
Biscayne is being invaded by aliens, but they're not little green men from another planet!
BioBlitz Rewind — April 10
Last April, thousands of people helped identify over 800 different species of plants and animals in just 24 hours as part of the National Geographic BioBlitz. What did we learn? Come find out!
The Dante Fascell Visitor Center is located at 9700 SW 328 Street, nine miles east of Homestead, Florida. Call 305-230-7275, extension 000 for more information.