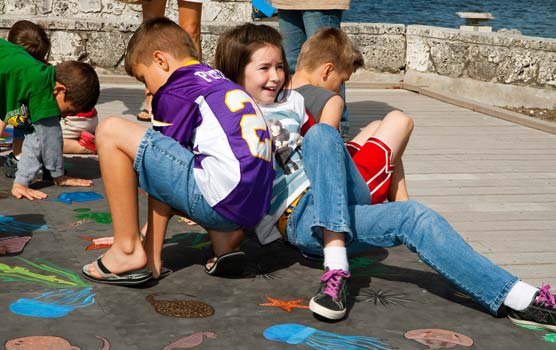 News Release Date:
November 16, 2009
Contact: Gary Bremen, 305-230-1144, x007
The tenth season of Biscayne National Park's popular Family Fun Fest series kicks off Sunday, December 13, 2009 at the park's Dante Fascell Visitor Center. The event is free and takes place from 1:00 to 4:00 p.m. on the second Sunday of every month from December through April — one month earlier than the previous 9 years.
Each Family Fun Fest event focuses on a particular theme highlighting some aspect of the park's diverse resources. Every month, participants receive a passport which they get punched as they complete each of five activities located on the grounds around the Dante Fascell Visitor Center near Homestead. Activities include games, science experiments, presentations and craft projects. After collecting all five punches, kids earn a specially designed button to remember the lessons learned. Five exciting and innovative new themes have been selected for the 2009-2010 season:
Our Changing World – December 13, 2009 – So, you think you're hot? You're not alone. The threat of Global Climate Change is downright scary! But big problems are not solved by being overwhelmed — they're solved by everyday people doing their part. Visit Mars and Venus to understand why our climate is changing, see how your choices every day can lead to a cooler planet, and listen in on the dastardly plans of the evil Dr. Verduga in the first episode of Climate: 911!
America's Best Idea – January 10, 2010 – Biscayne is just one of 392 National Parks. Each tells a little piece of the American story, and we're bringing in activities from parks across the country to help kids get a handle on some of the cool stuff they own. Travel with Spanish explorer Hernando DeSoto, find out who lives in the top of a redwood tree, and see if superheroes Ice Baby and Quench can thwart Dr. Verduga's evil plans to melt glaciers and dry up lakes in Episode 2 of Climate: 911!
BioBlitz: For the Love of Diversity – February 14, 2010 – Celebrate Valentine's Day and kick off National Geographic's Biscayne BioBlitz at the same time! How is biodiversity like a box of chocolates? What's in a name? Can superheroes Buffer Boy and The Colorizer protect animals from Dr. Verduga's evil plans to warm the planet and change the Earth forever? Find out in Episode 3 of Climate: 911!
Liter-a-Sea: Oceans of Knowledge – March 14, 2010 – Biscayne National Park is 95% covered by water. The ocean is the lifeblood of the park, but it is also the lifeblood of the planet. Learn the seven principles of ocean literacy from Bella the Bear, a visitor from England who blogs about the oceans with her brother Ed. How do the oceans affect weather? Why are people drawn to the sea? Can a lone superhero stop the evil Dr. Verduga in the final episode of Climate: 911? Tune in to find out!
The Best Family Fun Fest EVER!! – April 11, 2010 – In this, the 50th Family Fun Fest, we're letting the participants decide what to do! Based on nominations submitted in January, and voting conducted in February and March, we'll bring back the best activities from the past ten years. Will your favorite make the cut? Don't miss the best Family Fun Fest EVER — the one that YOU create!!!
Family Fun Fest is made possible through a generous grant from the Captain Bob Lewis Boat Center Yamaha Billfish Challenge and the Bobby Duryea Fund at the South Florida National Parks Trust, with additional support from the Biscayne Bay Aquatic Preserve, a variety of other local agencies and businesses, and a host of dedicated volunteers. The Dante Fascell Visitor Center is located at 9700 SW 328 Street, nine miles east of Homestead, Florida. Call 305-230-7275, extension 0 for more information. For regular updates from the park, follow us on Twitter at www.twitter.com/BiscayneNPS.