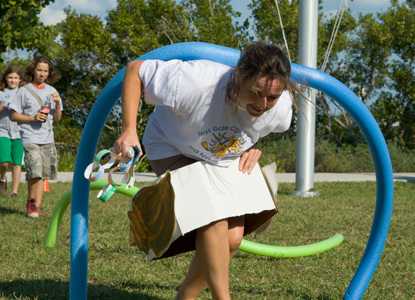 News Release Date:
December 11, 2008
Contact: Gary Bremen, 305-230-1144, x3084
The ninth season of Biscayne National Park's popular Family Fun Fest series kicks off Sunday, January 11, 2009 at the park's Dante Fascell Visitor Center. The event is free and takes place from 1:00 to 4:00 p.m. on the second Sunday of every month from January through May.
Each Family Fun Fest event focuses on a particular theme highlighting some aspect of the park's diverse resources. Every month, participants receive a passport which they get punched as they complete each of five activities located on the grounds around the Dante Fascell Visitor Center near Homestead. Activities include games, science experiments, presentations and craft projects. After collecting all five punches, kids earn a specially designed button to remember the lessons learned. Five exciting and innovative new themes have been selected for the 2009 season:
Lost in the '60s — January 11
The 1960s brought America some great music, classic television and literature…and the largest marine park in the National Park System. Kick off the Park's second 40 years with a salute to psychedelic pop culture: hear what "seven stranded castaways" have to say about the Park, discover the beauty of native trees at "Wood Stock," and learn how NOT to handle "dangerous" plants and animals in the Wild Kingdom.

Amazing Adaptations — February 8
In the bicentennial year of Charles Darwin's birth, we look at some of the amazing adaptations that help Biscayne's plants and animals survive. Eat like a bird, play a game of Defense Twister, and discover mind-boggling quick-change artists.

Legacy from the Past — March 8
Celebrate Florida Archaeology Month with a look at Biscayne's historical heritage. Map a shipwreck, take on some island pioneer chores, and put together the pieces of an archaeological puzzle by participating in a mock dig.

Spring Has Sprung — April 5
Bunnies, colored eggs and baskets are springtime standards, but what's the real story? Hunt for bird's eggs, build your own nest and enjoy one of a rabbit's favorite treats! (NOTE THAT THIS EVENT IS ON THE FIRST SUNDAY IN APRIL TO AVOID EASTER)

A Salute to Moms! — May 10
It's Mother's Day, so we'll wrap up the Family Fun Fest season with a tribute to some of the park's great moms. Make your way through a sea turtle obstacle course to lay your eggs, join UM grad students in matching baby fish with their parents, and meet a real, live brother/sister pair of otters and their adopted "mom."
Family Fun Fest is made possible through a generous grant from the Captain Bob Lewis Boat Center Yamaha Billfish Challenge and the Bobby Duryea Fund at the South Florida National Parks Trust, with additional support from the Biscayne Bay Aquatic Preserve, a variety of other local agencies and businesses, and a host of dedicated volunteers.
The Dante Fascell Visitor Center is located at 9700 SW 328 Street, nine miles east of Homestead, Florida. Call 305-230-7275, extension 0 for more information.