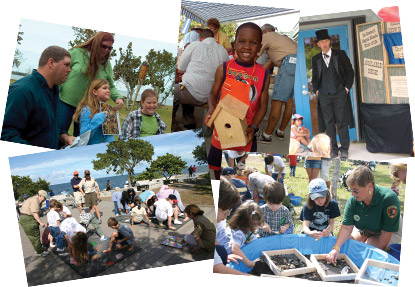 News Release Date:
December 11, 2007
Contact: Gary Bremen, 305-230-1144, x3084
Back to Basics: Linking Biscayne's Habitats is the theme for Biscayne National Park's 2008 Family Fun Fest season. Now in its 8th year, each installment of this award-winning program will focus on one of the park's five major resources: mangrove forests, the Biscayne Bay estuary, the unspoiled Florida Keys, the spectacular coral reefs and the area's colorful human history. There will be loads of new activities, as well as a return of some Family Fun Fest Favorites from previous seasons.
Held from 1:00 to 4:00 in the afternoon on the second Sunday of every month from January through May, Family Fun Fest features 5 hands-on activity stations on the grounds of the park's Dante Fascell Visitor Center, located 9 miles east of Homestead. Participants receive a passport that guides them through the five activities, and they receive a punch in their passport as they complete each one. After receiving all five punches for a given event, participants are awarded a specially-designed commemorative button. Collecting all five buttons in a given year qualifies participants as Family Fun Fest Fanatics, who receive an additional award.
The 2008 lineup includes:
Reef Rally! – January 13, 2008

Two, four, six, eight: reefs have LOTS to appreciate! Kick off the International Year of the Reef with a pep rally for Biscayne's most diverse ecosystem. Become a CSI (Coral Structure Investigator), build your own coral polyp and see how park scientists grow new corals to help restore the park's reefs.



Keys Kaleidoscope – February 10, 2008

No roads or bridges, no tiki bars or t-shirt shops. Come explore the sights and sounds of the real Florida Keys with a look at scurrying hermit crabs, tree-climbing snakes and an investigation into some of the very odd things that wash onto the islands every day.



Biscayne Bay-bies – March 9, 2008

Celebrate Seagrass Awareness Month with a peek into the park's largest nursery area: Biscayne Bay. Discover the best daddy and the biggest baby in the bay, send a seagrass meadow to a friend, and figure out "whodunit" in the Great Prop Scar Caper.



Career Fair: 1878 – April 13, 2008

What do you want to be when you grow up? For Biscayne's pioneers, career choices were limited…and the work was hard. Experience some of the jobs that thrived on the Florida Keys 130 years ago, including pineapple farming, fishing, wrecking, turtling and lighthouse-keeping.


Mangrove Mania! – May 11, 2008

Trees are terrific, but mangroves are magnificent! Paddle in to take a closer look at these "walking" trees, investigate some of their unique adaptations and discover the important role they play in all of Biscayne National Park's other ecosystems as well.
Family Fun Fest is made possible through a grant from the Captain Bob Lewis Boat Center Yamaha Billfish Challenge and the Bobby Duryea Memorial Fund at the South Florida National Parks Trust. Additional support is provided by the Biscayne Bay Aquatic Preserves and a host of dedicated and talented volunteers.
Additional information is available by calling 305-230-7275.