Endangered World Opens at Biscayne National Park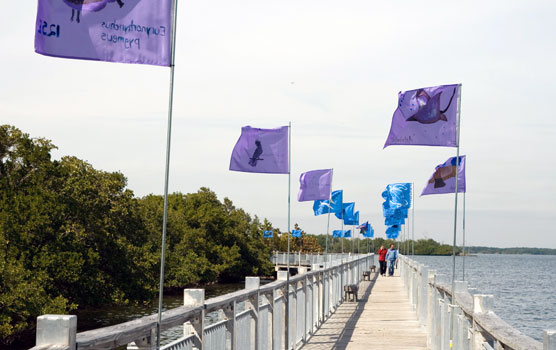 News Release Date:
February 23, 2010
Contact: Gary Bremen, 305-230-1144, x007
Miami artist Xavier Cortada's Endangered World: Biscayne National Park installation and the 80.15 W exhibit are now open at Biscayne National Park's Convoy Point and the Dante Fascell Visitor Center. The installation is viewable from 7:00 am to 5:30 p.m. daily along the park's roads and trails. The indoor exhibit is open from 9:00 am to 5:00 pm daily. On February 28 from 6-8 p.m., the public is invited to meet Cortada at the Dante Fascell Visitor Center for a full-moon reception featuring refreshments and a talk by the artist. The installation, exhibit and reception are all free and open to the public.
Conceptualized by Cortada, the outdoor installation features 360 brightly colored flags lining Convoy Point's roads and trails for over a mile. Each flag represents one degree of the planet's longitude, and 360 individuals and organizations from throughout South Florida decorated the flags with an image of an endangered or threatened animal that lives at that longitude. Participants also committed to an "eco-action" that directly or indirectly mitigates the plight of that animal.
In contrast to the exuberance of the outdoor installation is 80.15 W inside the Dante Fascell Visitor Center Gallery. Here, Cortada has created 17 somber works on paper that feature the 17 threatened and endangered species that call Biscayne National Park home. The exhibit is titled for the longitude where the Visitor Center sits to tie it in to the larger installation outside. The pieces were created using reused carbon paper, a metaphor for the impact (or "carbon footprint") that humans have had on that animal. The work is fragile, almost ghostly, and viewers see a reflection of themselves in the dark paper under glass, in turn a reflection of their own impact on endangered wildlife. Anyone who remembers working with carbon paper will also remember how even small interactions left impressions and smudges, a further metaphor for the role humans have played in the decline of each animal.
Both projects are part of the park's celebration of the United Nations' "International Year of Biodiversity," and the final countdown to BioBlitz, a 24-hour species inventory of the park sponsored by National Geographic on April 30 and May 1, 2010.
"I am honored to bring this participatory eco-art work to a national park that serves as a refuge for 17 threatened and endangered species in my community," says Cortada. "The Endangered World: Biscayne National Park installation has not only generated awareness about global biodiversity loss, it has engaged participants — artists, teachers, students, politicians, business owners, community organizers, concerned citizens — in local action."
Prior to this project, Cortada created art installations around the world to raise awareness about issues like global climate change, deforestation and the plight of endangered species. In 2008, he traveled by icebreaker to the North Pole to create an installation to generate awareness about the imminent threat climate change poses to the planet's biodiversity. In 2006, Cortada's Reclamation Project sought to remind Miami Beach residents and visitors of the island's origins as a mangrove forest by having over 2500 mangrove seedlings displayed in shop windows across the island. He has created collaborative works at universities and cultural institutions around the world, including those in Cyprus, Bolivia, Ireland, Panama, Switzerland, South Africa, as well as National Science Foundation's research station in the South Pole. Details on these previous projects can be found at www.XavierCortada.com.
Endangered World: Biscayne National Park and 80.15 W are part of the park's Community Artists Program, started in 1997 as an outlet for the works of both established and emerging artists who are inspired by the beauty of Biscayne National Park. The program is made possible by the South Florida National Parks Trust through the generosity of Miami-Dade County's Cultural Affairs Division, The First National Bank of South Florida and Sedano's Supermarkets. Major additional support for this exhibit came from the South Florida Progress Foundation, Youth Leadership Miami, Project Manager Arielle Angel, and the park's Volunteers-in-Parks program.
For more details about the exhibit and BioBlitz, visit the park's website or contact park ranger Gary Bremen at 305-230-1144, x007.
Last updated: April 14, 2015