Endangered Schaus' Swallowtail Butterfly Release in Biscayne National Park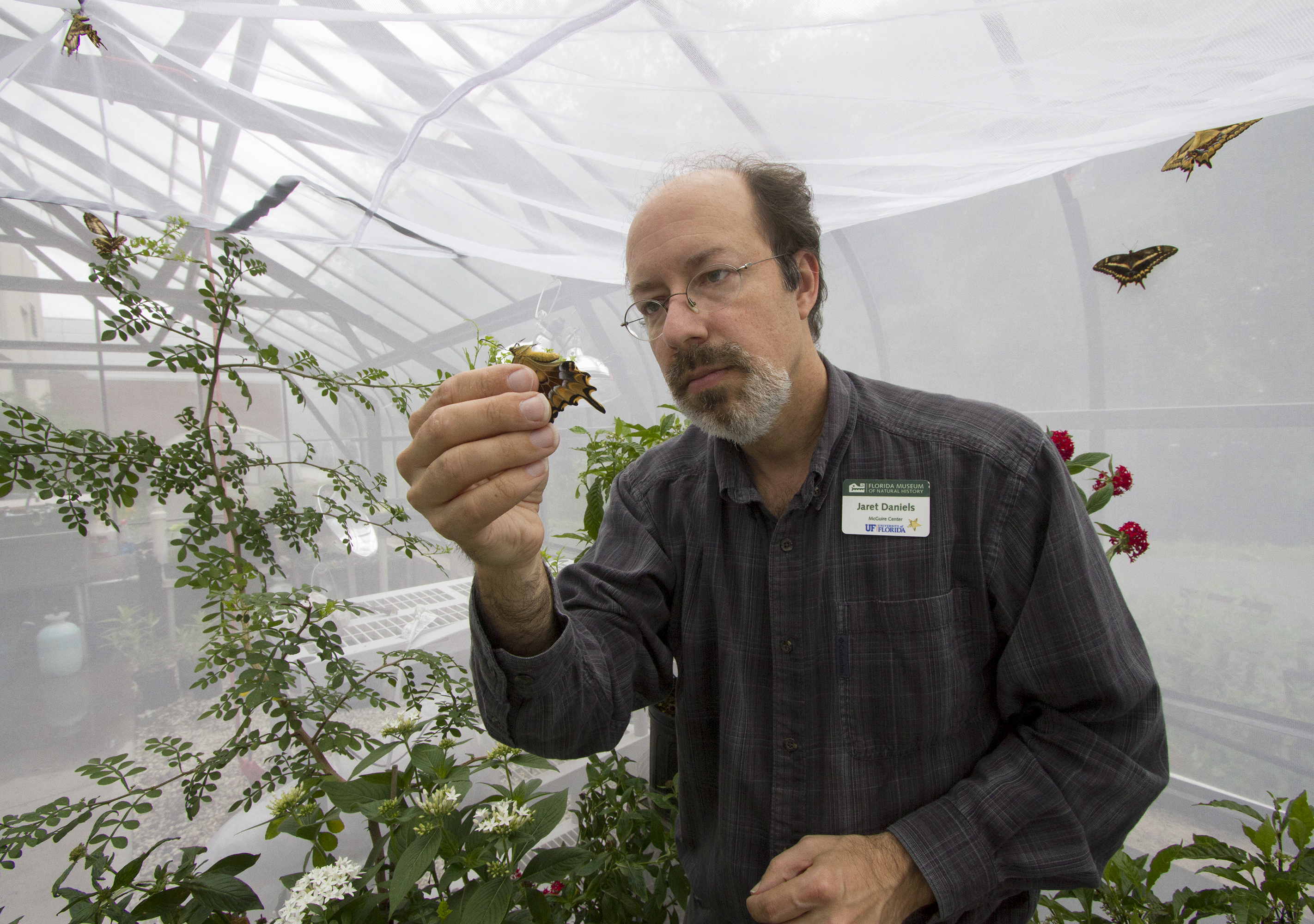 News Release Date:
June 5, 2014
Contact: Matt Johnson, National Park Service, 786-335-3679
Contact: Ken Warren, U.S. Fish and Wildlife Service, 772-469-4323
HOMESTEAD, FLORIDA – Endangered Schaus' swallowtail butterflies are currently found only on a single island in Biscayne National Park. A collection and captive breeding operation, begun in 2012 in an effort to save the butterfly from extinction, has shown initial success. Over a thousand butterfly larvae were produced at the University of Florida. Larvae and adult butterflies are now being released into their natural habitat.
The releases are the result of a collaborative, multi-agency effort over the past three years to prevent the extinction of this highly endangered species. Butterfly numbers dwindled so low, only four were counted in 2012, that the U.S. Fish and Wildlife Service (USFWS) issued an emergency authorization for their collection and captive rearing. A hundred eggs were collected on Elliott Key and transported to theUniversity of Florida (UF). They were collected in order to establish a colony and program to return the butterflies to the wild. Among the increased population, eleven adult females, four males and 308 larvae were recently released on Elliott Key. Nearly two dozen adults are staying at UF in order to raise more butterflies. 35 pupae are housed on Elliott Key and will be released upon emergence.
"All of this is great news, considering where this species was two years ago," said Jaret Daniels, lead UF researcher. "The initial success of the captive breeding program kindles hope for the recovery of the species."
Rare and unique video footage and still images of the butterflies emerging from pupae are available at https://dl.dropboxusercontent.com/u/10837916/20140604_SachusButterflyAssets.zip (video), and http://kingdom.ifas.ufl.edu/tylerljones/News/SchausSwallowtail/Hi%20Res%20Downloads/ (images).
The Schaus' swallowtail was listed under the Endangered Species Act as "threatened" in 1976. Along with the Bahamian swallowtail, it was the first insect added to the endangered species list. In 1984 its status was changed to "endangered." The Schaus is limited to tropical hardwood hammock habitat in Biscayne National Park and on northern portions of Key Largo. Only 75 butterflies were recorded over the past three years combined. The butterflies are dark brown with yellow markings and a broad rusty patch underneath the hind wing. Adults have a wingspan of 3.25-3.75 inches. Butterfly recovery is hindered by habitat destruction, insecticide use, droughts, hurricanes and illegal collection. As pollinators, butterflies are important members of any ecosystem. They are key components of the food chain, particularly as larvae. They are also good indicators of the ecological quality of a habitat.
"Ensuring that the Schaus' swallowtail survives helps to keep this ecosystem intact," said Superintendent Brian Carlstrom. "National parks like Biscayne protect each and every species, for the benefit of all."
Conservation and monitoring efforts for the Schaus' swallowtail butterfly are being coordinated by cooperating agencies including USFWS, UF, the Florida Fish and Wildlife Conservation Commission, the National Park Service, the Florida Natural Areas Inventory, and the Florida Department of Environmental Protection.
For more information about Biscayne National Park, please visit the park website at www.nps.gov/bisc, or follow the park on Facebook at www.facebook.com/biscaynenps, or Twitter at www.twitter.com/biscaynenps.
-NPS-
About the National Park Service: More than 20,000 National Park Service employees care for America's 401 national parks and work with communities across the nation to help preserve local history and create close-to-home recreational opportunities. Learn more at www.nps.gov.
Last updated: July 24, 2018