Draft General Management Plan Released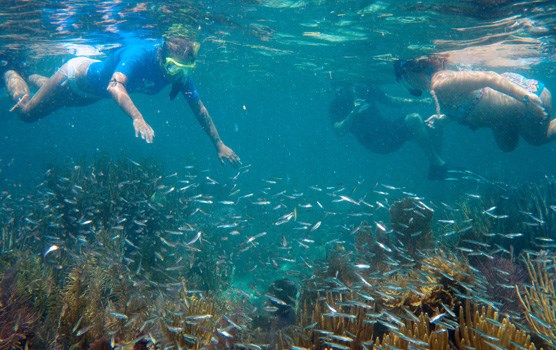 Date:
August 19, 2011
Contact:
Biscayne Planning
, 786-335-3622
The National Park Service (NPS) announced today that the draft Environmental Impact Statement (Draft EIS) for Biscayne National Park's General Management Plan (GMP) is available for public comment. The NPS has invited all interested parties to attend any of three identical public meetings as follows:
September 13 - 6-9 p.m. - Crown Plaza Hotel - 950 NW 42 Avenue, Miami 33126
September 14 - 6-9 p.m. - Florida City's City Hall - 404 W Palm Drive, Florida City 33034
September 15 - 6-9 p.m. - Holiday Inn Key Largo - 99701 Overseas Hwy, Key Largo 33037
These public meetings will provide an opportunity for the public to learn about the draft plan and to submit verbal and/or written comments. Presentations and exhibits will be available to facilitate understanding of the plan.
There are five alternatives in the plan including a current management, or "no change" option. The NPS Preferred Alternative emphasizes strong natural and cultural resource protection while providing for a variety of visitor experiences and public enjoyment. It promotes the protection of natural and cultural resources and takes actions to optimize conditions for recovery. "The NPS Preferred Alternative was developed based on public comments we've already received and on a lot of science," said Superintendent Mark Lewis. "We are especially interested in the public's reaction to this alternative since we believe it represents a good balance among the wide range of interests people have in the park."
Highlights of the NPS preferred alternative in the GMP include a proposed 10,522 acre no-take marine reserve and a proposed visitor center in the Miami area. "If you visit a national park out West, you expect to see tall trees and healthy populations of large mammals," said Lewis. "If you visit Biscayne National Park, you expect to see healthy reefs with a lot of coral cover and lots of large fish of different species. But over the years, the park's reefs and reef fish populations have undergone a dramatic decline in health and abundance. With a no-take marine reserve, we hope to be able to offer our visitors the opportunity to see and experience a healthy reef, while improving fishing outside the proposed zone." Marine reserves around the world show increases in reef health, fish population and sizes, and improved fishing outside the reserve from spill-over effects. The proposed reserve is about seven percent of the park's waters and the remaining 93% would remain open to fishing under State of Florida fishing regulations.
The proposed visitor center would be located near downtown Miami on the shore of Biscayne Bay, with dock space for NPS and concession boats that could lead boat tours to the northern part of the park, offering easier access to Stiltsville and Boca Chita. "A visitor center near downtown Miami would connect the city with the National Park at its doorstep. We want to reach local residents, non-traditional park users and international visitors," said Lewis. "The park and the City of Miami are both very excited about a potential National Park facility in that area."
Other aspects of the agency preferred alternative include minimal development including a boardwalk on the mainland, a canoe dock on Porgy Key, options for management of the historic Fowey Rocks Light, and interpretation kiosks.
How to comment: The 60 day public comment period continues through October 31, 2011. Comments received by then will be helpful in developing the final plan; this is the final opportunity for public comments on this plan. The public can comment verbally or in writing at the public meetings. Emailed comments and telephone comments cannot be accepted. Comments may be submitted online via the NPS website at www.parkplanning.nps.gov/bisc. The public can also mail written comments to:
General Management Plan
Biscayne National Park
9700 S.W. 328th Street
Homestead, FL 33033-5634
More information: A more detailed newsletter about the General Management Plan is available to download at www.parkplanning.nps.gov/bisc. For a paper copy, more information or questions about the General Management Plan, please contact bisc_planning@nps.gov or 785 335 3622. Emailed comments and telephone comments cannot be accepted for this plan.

Last updated: April 14, 2015