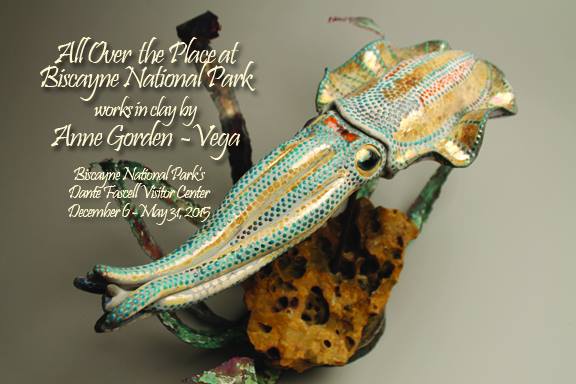 News Release Date:
February 26, 2015
Contact: Gary Bremen, 305-230-1144 x007
Ceramic artist Anne Gorden-Vega has created a body of work inspired by Biscayne National Park that will be on display in the park's Dante Fascell Visitor Center Gallery from March 6 through May 31, 2015. All Over the Place in Biscayne National Park features both handbuilt sculptural pieces and carved tilework with motifs of fish, birds, corals…and even a ranger! The public is invited to meet the artist and watch a demonstration of raku firing at a full-moon wine-and-cheese reception from 6:30 -9:00 on Saturday, March 7, 2015. The opening will double as the kickoff for Baynanza 2015, Miami-Dade County's annual month-long celebration of Biscayne Bay, and will also feature a display of images by Baynanza 2015 calendar photographer Stephen Shelley. The Gallery is located at 9700 SW 328 Street, 9 miles east of Homestead, Florida. The show is open daily from 9:00 to 5:00, and admission is free.
Anne Gorden-Vega has spent a lifetime roaming the islands and waters of Biscayne National Park. With her ceramic pieces, she invites you to explore the color, texture and history of a place she deeply loves. From tiny coral animals to lettuce slugs, squid and tarpon, Gorden-Vega's work captures the essence of Biscayne National Park. "Being lucky enough to grow up living between Everglades National Park and Biscayne National Park has given me powerful inspiration," Gorden-Vega said. "My adventures in these wilderness areas have not only inspired my artwork visually, but have also lent so many stories to tell."
All Over the Place in Biscayne National Park is part of the park's Community Artists Program, started in 1997 as an outlet for the works of artists who are inspired by the beauty of Biscayne National Park. The program is made possible by the South Florida National Parks Trust through the generosity of Sedano's Supermarkets and the Miami-Dade County Division of Cultural Affairs and the Cultural Affairs Council, the Miami-Dade County Mayor and Board of County Commissioners. Additional support comes from the Miami-Dade Regulatory and Economic Resources Department, sponsors of Baynanza 2015.
For more details about the exhibit, visit the park's website at www.nps.gov/bisc or contact park ranger Gary Bremen at 305-230-1144, x007. For regular updates from the park, "like" us on Facebook at www.Facebook.com/BiscayneNPS , or follow us on Twitter at www.Twitter.com/BiscayneNPS.
-NPS-
About the National Park Service: More than 20,000 National Park Service employees care for America's 407 national parks and work with communities across the nation to help preserve local history and create close-to-home recreational opportunities. Learn more at www.nps.gov.