Celebrate the Holiday Season with Free Trolley Visits to Your National Parks!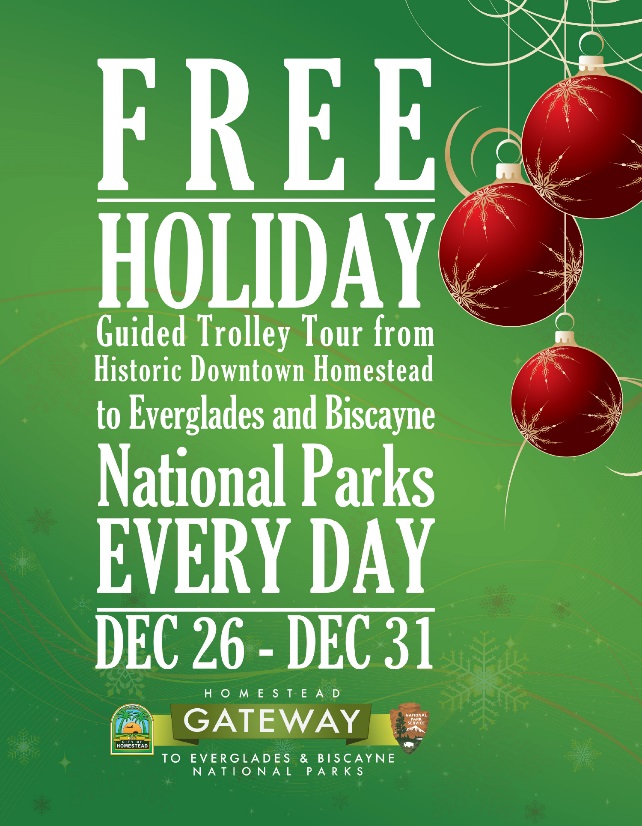 News Release Date:
December 17, 2014
Contact: Matt Johnson, 786-335-3679
HOMESTEAD, Florida - Free—it's not a word you hear often during the holidays, but the City of Homestead is offering free transportation, free parking, free guided tours and free admission to Everglades and Biscayne National Parks as part of the Holiday Trolley. Take advantage of this special Homestead National Parks Trolley service running every day December 26 through 31. After all, there's no better time to visit your national parks than the holiday season. Enjoy the beautiful weather, explore nature, encounter wildlife and spend time with your family. This service is the perfect opportunity to entertain children who are home during winter break.
The trolley departs every day December 26 through 31 from picturesque and historic downtown Homestead, which is listed on the National Register of Historic Places. Visitors may enjoy local restaurants, take in Homestead's beautiful historic architecture and visit the free Old Town Hall Museum before or after their visit to the parks.
"We are excited to offer this special service during the holiday season," said Vice-Mayor Stephen Shelley. "There's really no better time than now to be with your family enjoying the great weather in our beautiful national parks. I encourage our residents and visitors to take advantage of this unique program and opportunity."
"The Homestead National Parks Trolley is a great way to experience amazing places. It is the only public transportation to both parks and as a bonus riders enjoy relaxing, guided tours along the way," said Superintendent Brian Carlstrom. "We are thankful to the Homestead's Vice Mayor Stephen Shelley and his staff for the effort they put into their Gateway City initiative, and the pluses the trolley provides in connecting tourists and local communities with the beauty of the parks."
Homestead's award-winning National Parks Trolley service began its second season November 22, 2014. It runs every weekend through April 26, 2015, with more tour times to meet growing demand. The trolley departs every Saturday and Sunday from historic downtown Homestead. The trolley takes visitors to Everglades National Park's Ernest F. Coe Visitor Center and riders enjoy free entrance into the park to visit the Anhinga Trail. It also travels to Biscayne National Park's Dante Fascell Visitor Center and boardwalk as well as Miami-Dade County's Homestead Bayfront Park where visitors may swim at the atoll beach.
The Homestead National Parks Trolley may be boarded at Losner Park in Homestead at 104 N. Krome Avenue. The trolley connects to bus routes from Miami-Dade County public transportation. There is plenty of free parking adjacent to the trolley stop.
The trolley program is the result of efforts of the National Parks Conservation Association in collaboration with the National Park Service and the City of Homestead. The National Parks Conservation Association works to protect and enhance America's national park system for current and future generations and is America's voice for national parks.
For more information on the Homestead National Parks Trolley, including schedules, routes and ranger programs, please visit www.cityofhomestead.com/gateway. For more information about Biscayne National Park, please visit the park website at www.nps.gov/bisc, or follow the park on Facebook at www.facebook.com/biscaynenps, or Twitter at www.twitter.com/biscaynenps. For more information on Everglades National Park, please visit the park website at www.nps.gov/ever.
-NPS-
About the National Park Service: More than 20,000 National Park Service employees care for America's 401 national parks and work with communities across the nation to help preserve local history and create close-to-home recreational opportunities. Learn more at www.nps.gov.
Last updated: April 14, 2015