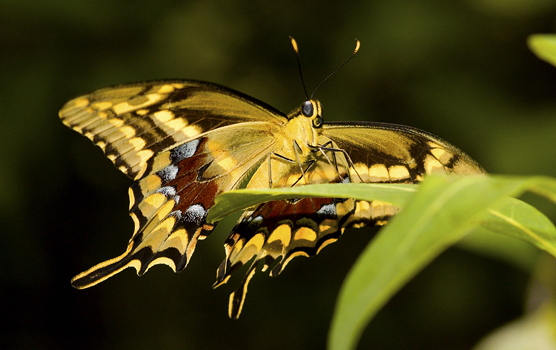 News Release Date:
September 1, 2009
Contact: Gary Bremen, 305-230-1144, x007
Photographers and other members of the Miami Blue Chapter of the North American Butterfly Association have collaborated to create Butterflies of Biscayne, the next exhibit in Biscayne National Park's Dante Fascell Visitor Center Gallery. Opening events, including a "meet the photographers" reception, a guided butterfly walk and a talk by noted author and expert Marc Minno, take place between 11:00 a.m. and 3:00 p.m. on Sunday, September 13. The show will be open daily from 9 a.m. to 5 p.m. from September 11 through November 15. Both the show and the reception are free and open to the public. The Dante Fascell Visitor Center is located at 9700 SW 328 Street, 9 miles east of Homestead, Florida.
More a "field guide on a wall" than a traditional art exhibit, Butterflies of Biscayne nonetheless incorporates stunning photography as a means of discovering and appreciating these beautiful insects. The show focuses on species found in Biscayne National Park, from the common zebra longwing (Florida's state butterfly) to the elusive, ephemeral and endangered Schaus' swallowtail, found only on the northernmost Florida Keys, including those in Biscayne National Park. In addition to the photos, educational posters covering topics such as butterfly lifecycles and ways to attract butterflies to home gardens are included. At 11:00 a.m., the public is invited to join enthusiasts from the Miami Blue Chapter of the North American Butterfly Association on a guided walk around the park's Convoy Point area. Leaders will provide tips and insights for viewing the insects, as well as assistance with identification and natural history. From 1:00 to 3:00 p.m., some of the show's photographers will be on hand to discuss their work, and share photo tips and stories. At 2:00 p.m., Marc C. Minno, author of Florida Butterfly Caterpillars and Their Host Plants, Butterflies Through Binoculars and Florida Butterfly Gardening will present the compelling story of efforts to reintroduce the endangered Schaus' swallowtail butterfly to Biscayne National Park.
Butterflies of Biscayne is part of the park's Community Artists program, started in 1997 as an outlet for the works of both established and emerging artists who are inspired by the beauty of Biscayne National Park. The program is made possible by the South Florida National Parks Trust through the generosity of Miami-Dade County's Cultural Affairs Division, The First National Bank of South Florida and Sedano's Supermarkets.
For further information on the exhibit, call 305-230-7275.