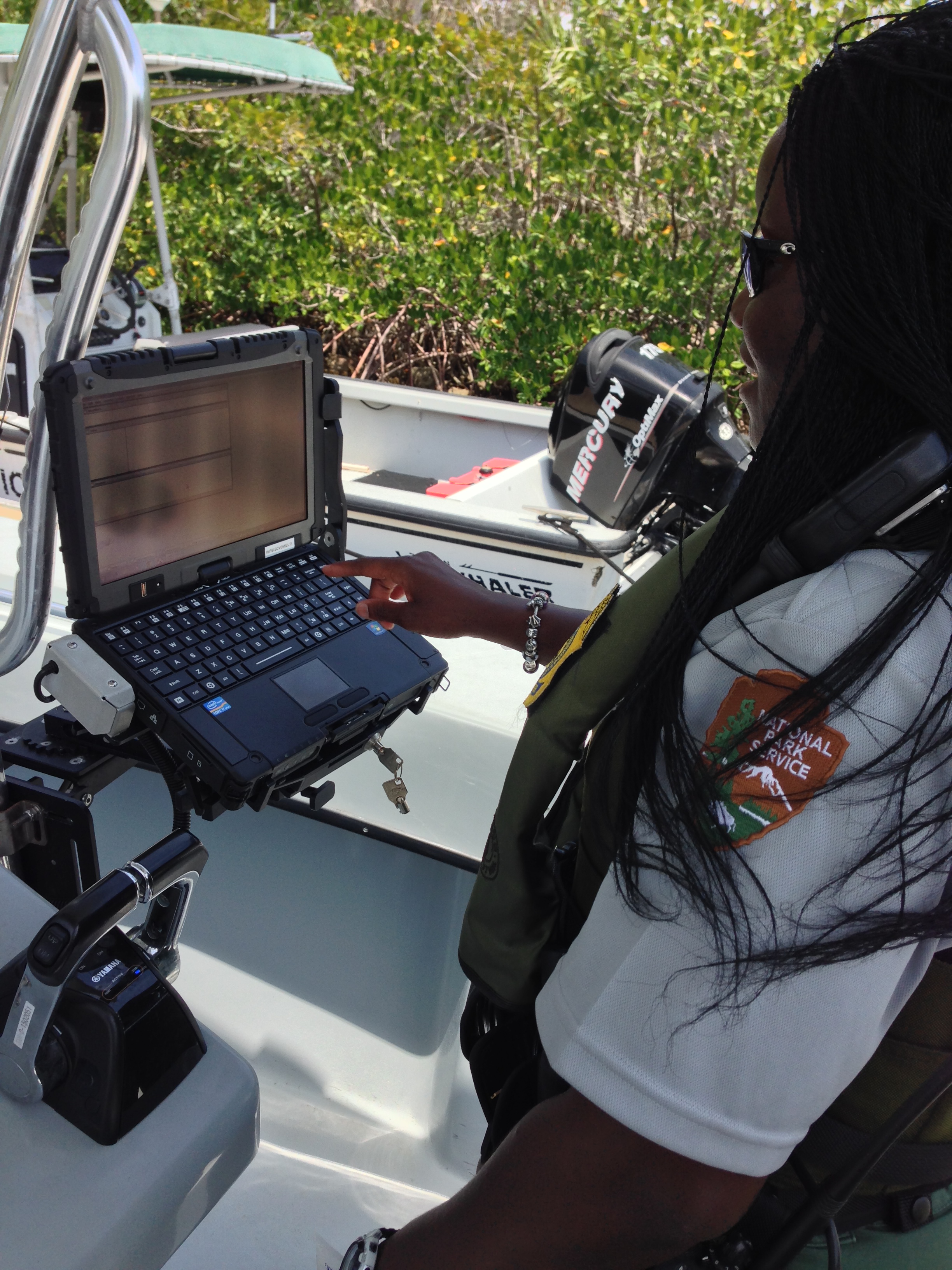 News Release Date:
August 4, 2014
Contact: Matt Johnson, 786-335-3679
HOMESTEAD, FLORIDA – Law enforcement patrol boats at Biscayne National Park are being outfitted with rugged new computer systems. The new technology allows park rangers to connect directly into a central database for tracking crime related information. It improves public and employee safety, and saves time and money in the process. The technology is the first of its kind operating on boats in the Southeast Region of the National Park Service and one of the first nationwide for the agency.
"This park is at the forefront of a wireless trend in the national park system," said Chief Ranger Willie Lopez. "With the new technology it is quicker and easier to obtain necessary information. It cuts down on workloads and keeps everyone safer than before."
Park rangers in remote areas no longer need to wait for radio contact in order to conduct their work. Citations may be printed and presented instantly on waterproof paper. The technology is working well for other law enforcement agencies. The system is operational on one park boat and being expanded to other boats and vehicles. Background checks are more convenient, faster and thorough. Busy signals and wait times are being relegated to the past.
The weather resistant computer systems, manufactured by Getac, allow park rangers in remote locations to access the National Crime Information Center, a centralized information system that improves the flow of communication between numerous law enforcement agencies. Information is available instantly on fugitives, missing or wanted persons, stolen property and other subjects.
Funding for the installation of the computer systems was provided by the South Florida National Parks Trust, the park's official, non-profit partner. The Trust supports the park through fundraising and community outreach.
For more information about Biscayne National Park, please visit the park website at www.nps.gov/bisc, or follow the park on Facebook at www.facebook.com/biscaynenps, or Twitter at www.twitter.com/biscaynenps.
-NPS-
About the National Park Service: More than 20,000 National Park Service employees care for America's 401 national parks and work with communities across the nation to help preserve local history and create close-to-home recreational opportunities. Learn more at www.nps.gov.