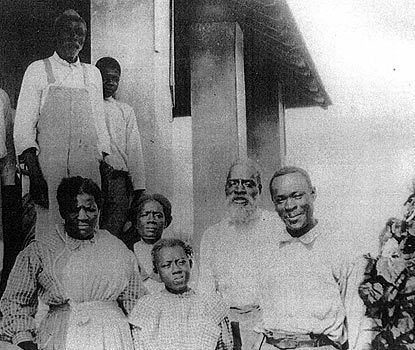 News Release Date:
October 7, 2015
Contact: Jay Johnstone, 443-373-3448
Contact: Matt Johnson, 786-335-3679
HOMESTEAD, Fla. --- Biscayne National Park is hosting a special event in commemoration of Lancelot Jones Day. It takes place from 11:00 a.m. to Noon on Monday, October 12, 2015, at the Dante Fascell Visitor Center. State and county representatives and commissioners are joining park staff to speak about the importance of the Jones family to the park and the region.
Lancelot Jones was an entrepreneur, a farmer and an educator and became a millionaire when most African-Americans living in the south in the early 20th-century were barely able to eke out a living. Cake and refreshments will be served at the conclusion of the event.
In honor of Lancelot Jones and his substantial contributions to the park and community, Miami-Dade and Monroe Counties adopted a resolution proclaiming October 12, Lancelot Jones Day. The City of Homestead and Miami-Dade County designated 328th Street from Speedway Boulevard to the park entrance as "Sir Lancelot Jones Way."
Lancelot Jones was born and raised in what is now Biscayne National Park. His father, Israel Lafayette Jones, was one of the earliest settlers on Porgy Key. The Jones family grew pineapples in the early 1900's on Porgy and Totten Keys. They became one of the country's largest key lime producers. Rather than develop the land in 1970 it was sold to the federal government to become part of the park. Lancelot Jones continued to live on his family's homestead until 1992 when Hurricane Andrew destroyed his residence. The Jones Family Historic District, including the remains of the former home and farm of Israel Lafayette Jones and his family, is now listed on the National Register of Historic Places.
The event is presented by the National Park Service in partnership with the City of Homestead, Miami-Dade and Monroe Counties, Mahogany Youth and the National Parks Conservation Association. The public is welcome to attend.
For more information about Biscayne National Park visit nps.gov/bisc or follow the park on Facebook facebook.com/biscaynenps, Twitter twitter.com/biscaynenps or Instagram instagram.com/biscaynenps.
---NPS---
About the National Park Service. More than 20,000 National Park Service employees care for America's 408 national parks and work with communities across the nation to help preserve local history and create close-to-home recreational opportunities. Learn more at www.nps.gov.