Date:
January 13, 2011
Contact:
Dan Maturen
, 305-230-7275, x000
Contact:
Matthew Johnson
, 305-230-1144, x050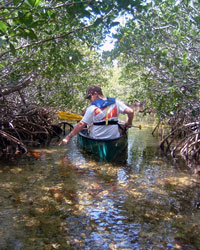 This winter and spring, Biscayne National Park and the park's concessionaire (Biscayne National Underwater Park, Inc.) will offer all-day ranger-guided canoe trips to some of the park's most pristine locations, including Adams Key, Totten Key, Hurricane Creek and Jones Lagoon. The trip will be offered to experienced paddlers from 8:00 AM to 5:00 PM on January 29, February 26, March 19, April 2 and April 16. The cost of the trip is $35 per person, which includes boat transportation to Adams Key, a shared canoe, paddle and a life jacket. Space is limited, and reservations can be made by calling 305-230-7275, x000.
The islands surrounding Jones Lagoon have been witness to the activities of pirates, rumrunners and hardy settlers, not the least of whom were Israel Lafayette Jones, his wife Moiselle, and their two sons King Arthur and Sir Lancelot. For nearly 100 years, members of this pioneering African-American family survived and thrived in the crystal clear waters that now make up the southern part of Biscayne National Park. Lancelot Jones is familiar to many park visitors because he was the subject of the Biscayne National Park segment on the 2009 PBS series The National Parks: America's Best Idea by filmmaker Ken Burns.
Participants are responsible for their own water, sunblock, insect repellent and lunch. Binoculars, cameras, sunglasses, a hat and other comfort/convenience items are encouraged, but all items have the potential to get wet. Trips depart from the park's Dante Fascell Visitor Center located at 9700 SW 328 Street, nine miles east of Homestead, Florida. Call 305-230-7275, extension 000 for more information.