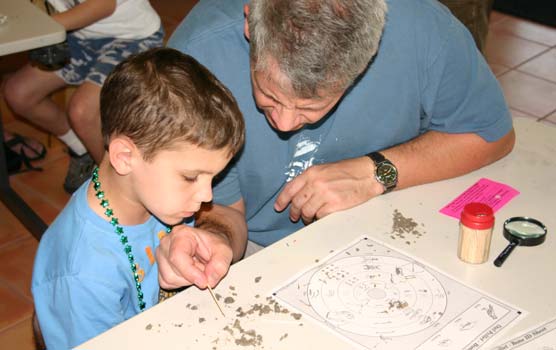 News Release Date:
March 25, 2010
Contact: Gary Bremen, 305-230-1144, x007
Biscayne National Park's Family Fun Fest began as a way to give local audiences a reason to come back to the park time and again. The first event drew about 50 people, and was run by two rangers and three volunteers. It has grown to an event that draws nearly 1000 people each year and is staffed by over 20 volunteers, many of whom are former Family Fun Fest participants. The 50th Family Fun Fest, will feature some of the best activities from the past 10 years, nominated and chosen by participants. The free event takes place on Sunday, April 11, 2010 at the park's Dante Fascell Visitor Center from 1:00 to 4:00 p.m. Stations located around the visitor center provide a variety of interactive learning opportunities, including:
Food Factor (2006) — Animals eat some pretty gross stuff. Can you figure out where to seat each animal diner in the restaurant?
Paddle Puzzle (2008) — Canoeing has always been a favorite, and this activity will use canoes to track down clues to answer a question about mangroves.
Owl Puke (2005) — Pick apart an owl's pellet to discover WHO he had for dinner!
Meet the Beetles! (2009) — How'd you like to be a dung beetle, pushing poop around all day?
Breaking News! (2005) — Tune in to a crazy newscast to learn what NOT to do when a hurricane's coming.
Participants will receive a paper passport to be punched at each station as they complete the activities. Those who complete all five activities will earn a special button to help remember the day, and those who attended all five Family Fun Fest events this season, and can prove it by bringing their buttons, will receive a Family Fun Fest Fanatic award.
Family Fun Fest takes place on the second Sunday of every month from December through April. The series is made possible through a grant from the Captain Bob Lewis Boat Center Yamaha Billfish Challenge and the Bobby Duryea Memorial Fund at the South Florida National Parks Trust. Additional support this month comes from the Biscayne Bay Aquatic Preserves and a host of dedicated volunteers. The Dante Fascell Visitor Center is located at 9700 SW 328 Street, nine miles east of Homestead, Florida. Call 305-230-7275, extension 555 for more information.