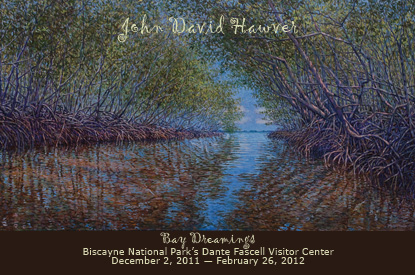 News Release Date:
November 14, 2011
Contact: Gary Bremen, 305-230-1144, x007
Contact: John David Hawver, 305-2993126
Oil paintings and pastels by popular Keys artist John David Hawver will fill the Dante Fascell Visitor Center Gallery at Biscayne National Park from December 2, 2011 through February 26, 2012 in a show Hawver calls Bay Dreamings. An opening reception will be held from 7-9 p.m. on Friday, December 2, at the Gallery located at 9700 SW 328 Street, 9 miles east of Homestead, Florida.
Hawver is a well-known regional artist, whose work is synonymous with Florida, and especially the Keys. Inspired by the natural environment, his paintings and pastels are filled with incredible drama and color, great expanses of water, enormous skies, leggy mangroves, lazy rivers and vistas abstracted into pure energies of light and color. Hawver's perspective is free of man-made objects and clutter. "This is my way of addressing modern life, urban sprawl and the depletion of natural resources," he says. "I'm enjoying what's left of our environment, documenting its splendor, and, if you notice, I've eliminated over population," he adds with a grin. Born in New York State, he moved to South Florida as a child. Growing up on, in, under, or around water greatly influenced his work, and love for the light and color of this area. He now lives and works in Islamorada.
Hawver received his MFA from the University of Miami, his BFA from the University of Florida, and has taught at Colleges and Universities in South Florida, His work has been shown extensively in solo and group exhibitions in museums and galleries throughout the South including, among many others, The Museum of Art in Ft. Lauderdale, the Lowe Art Museum, the Boca Raton Art Museum, The Art and Culture Center of Hollywood, and Key West Museum of Art and History. In January 2009, he installed a 10'x 8' painting for the new Murray E. Nelson Government Center in Key Largo, commissioned by Monroe County Art in Public Places. "John was part of the group show that opened the Dante Fascell Visitor Center in August of 1997 with a painting called Tribute to the Banality of Just Another Day in Paradise, Hoo Hum," reminisced Gary Bremen, coordinator for the park's Community Artist Program. "After almost 15 years, I'm thrilled to have his luminous seascapes and slightly skewed sense of humor back for a solo show."
Bay Dreamings is part of the park's Community Artists Program, started in 1997 as an outlet for the works of both established and emerging artists who are inspired by the beauty of Biscayne National Park. The program is made possible by the South Florida National Parks Trust through the generosity of the Miami-Dade County Division of Cultural Affairs and the Cultural Affairs Council, the Miami-Dade County Mayor and Board of County Commissioners. Additional support for this show comes from Redwood Creek Winery and Sedano's Supermarkets.
For more details about the exhibit, contact park ranger Gary Bremen at 305-230-1144, x007. For more about John David Hawver, visit www.JohnDavidHawver.com. For regular updates from the park, "like" us on Facebook at www.Facebook.com/BiscayneNPS, or follow us on Twitter at www.Twitter.com/BiscayneNPS.