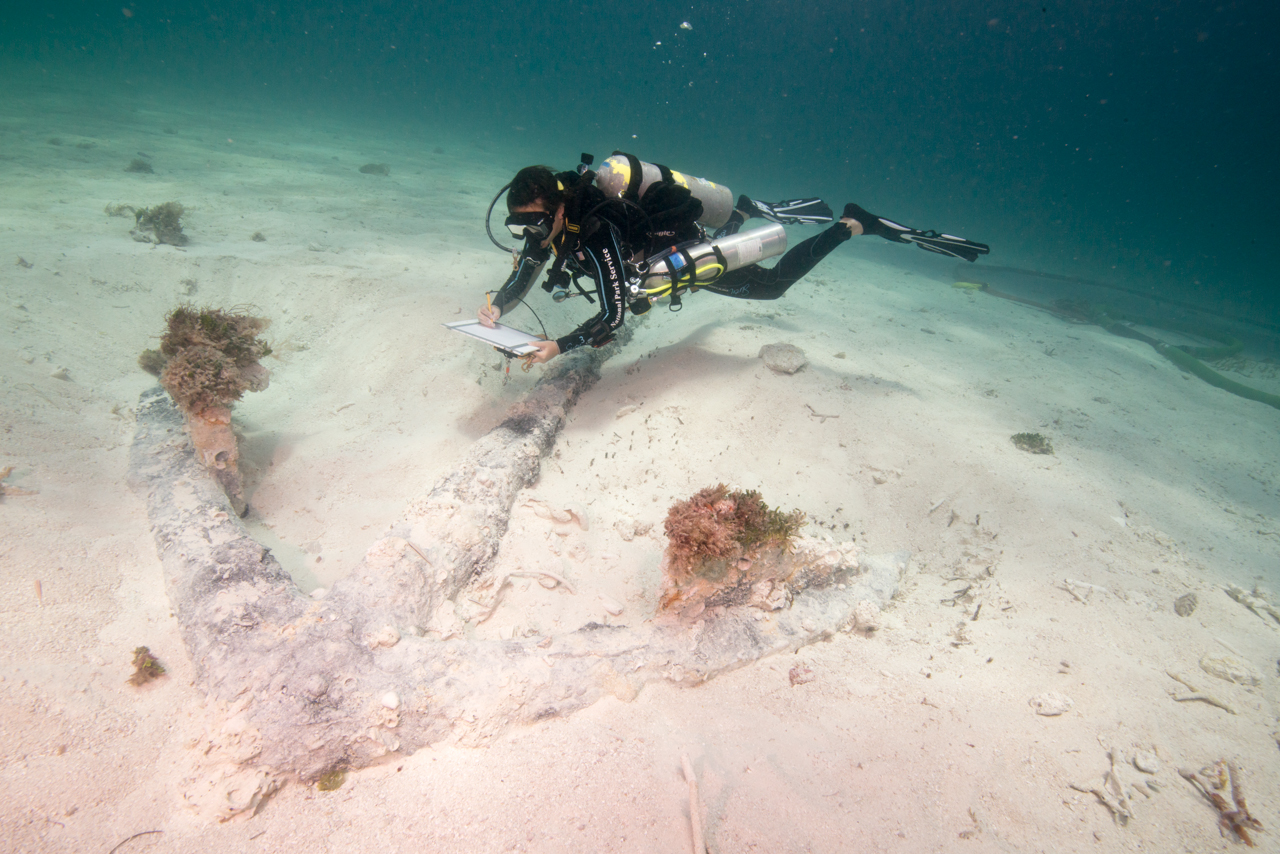 News Release Date:
March 27, 2014
Contact: Matt Johnson, 786-335-3679
Contact: Joshua Marano, 786-335-3676
HOMESTEAD, FLORIDA – On Friday, April 4, 2014, Joshua Marano, a registered professional archaeologist at Biscayne National Park, will speak about current archaeological investigations in the park. The luncheon and presentation take place at the Coral Reef Yacht Club in Coconut Grove, 2484 South Bayshore Drive. Seating is limited. A reception at 11:30 AM precedes the 12 PM luncheon.
Mr. Marano will provide an introduction to the archaeological resources of Biscayne National Park and will be accompanied by a PowerPoint presentation illustrating the underwater excavation of the HMS Fowey, wrecked in 1748, as well as the terrestrial excavation of a prehistoric Tequesta site. Interpretive park ranger Astrid Rybeck will be on hand to discuss current programs at the park.
Beginning with Florida's earliest inhabitants, people from around the globe traversed the waters of present day Biscayne National Park. While many vessels passed through the Straits of Florida unscathed, some strayed into dangerous reefs along the coast and were wrecked there. Those fortunate enough to survive these disasters were often cast ashore near prehistoric settlements belonging to native groups such as the Tequesta. The archaeological remains of many of these vessels and settlements are preserved along the reefs and coasts of Biscayne National Park.
Lunch will cost $25 per person and includes a beverage, entree, and dessert. Entrees include a choice of a Caesar salad, almond chicken crepe, or a shrimp platter a la Luis. Reservations are required by Wednesday, April 2. Contact Clara Waterman Powell at 305-794-5665 or by e-mail at MayflowerPowell@aol.com, to make a reservation.
For more information about Biscayne National Park, please visit the park website at www.nps.gov/bisc, or follow the park on Facebook at www.facebook.com/biscaynenps, or Twitter at www.twitter.com/biscaynenps.
-NPS-
About the National Park Service: More than 20,000 National Park Service employees care for America's 401 national parks and work with communities across the nation to help preserve local history and create close-to-home recreational opportunities. Learn more at www.nps.gov.