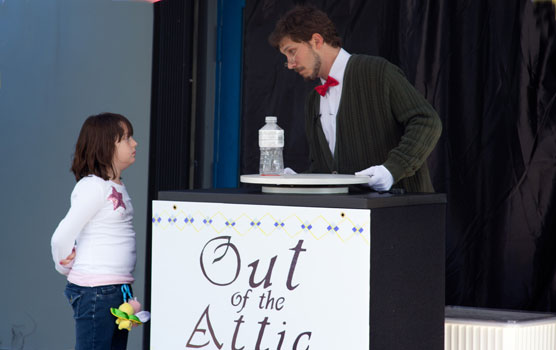 News Release Date:
March 2, 2011
Contact: Gary Bremen, 305-230-1144, x007
South Florida's National Parks are being invaded by aliens! They're not little green men from outer space though. Lionfish, pythons, iguanas and a slew of exotic plants are just a few of the many alien species wreaking havoc on the South Florida ecosystem. On March 13, Biscayne National Park's multi-award- winning Family Fun Fest will focus on the serious problem in a fun and educational way. The free event takes place on Sunday, March 13, 2011 at the park's Dante Fascell Visitor Center from 1:00 to 4:00 p.m. Stations located around the visitor center provide a variety of interactive and hands-on activities, including:
Good Noose! — Try your hand at catching iguanas just like National Park Rangers do!
What's Lion Inside? — Take a look INSIDE a real lionfish to see just how hungry they can be!
Great Python Search — Track decoy pythons using GPS units!
Green and Mean — How can such beautiful plants cause so many problems?
Alien Chef! — Comical chefs compete to create the most succulent meal from alien species!
Participants will receive a paper passport to be punched at each station as they complete the activities. Those who complete all five activities will earn a special button to help remember the day, and those who earn five buttons in a season will receive a Family Fun Fest Fanatic award in April.
Family Fun Fest takes place on the second Sunday of every month from December through April. The series is made possible through a generous grant from the Captain Bob Lewis Billfish Challenge and the Bobby Duryea Memorial Fund at the South Florida National Parks Trust. Additional support this month comes from the Biscayne Bay Aquatic Preserves, the local geocaching community, and a host of dedicated volunteers.
The final Family Fun Fest of the 2010-2011 season will be:
BioBlitz Rewind — April 10
Last April, thousands of people helped identify over 800 different species of plants and animals in just 24 hours as part of the National Geographic BioBlitz. What did we learn? Come find out!
The Dante Fascell Visitor Center is located at 9700 SW 328 Street, nine miles east of Homestead, Florida. Call 305-230-7275, extension 000 for more information.