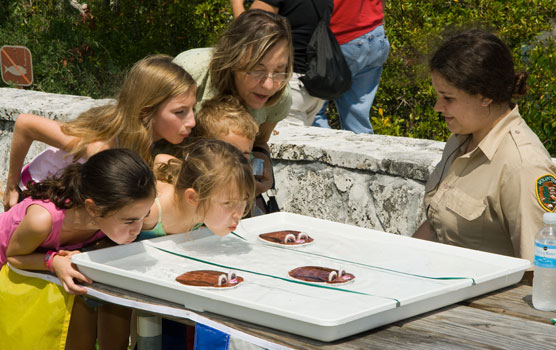 News Release Date:
April 30, 2009
Contact: Gary Bremen, 305-230-1144, x3084
It's Mother's Day, and the final installment in Biscayne National Park's 2009 Family Fun Fest series pays tribute with "A Salute to Mom!" The free event takes place on Sunday, May 10 from 1:00 to 4:00 p.m. on the grounds of the park's Dante Fascell Visitor Center, and features stations located around the visitor center that provide a variety of interactive and hands-on activities, including:
Sibling Rivalry

— Meet a real, live brother-sister pair of otters rescued and rehabilitated after a hunter's dog attacked their mother.

Turtle Hurdles

— Navigate some of the obstacles a mother sea turtle has to avoid to get to her nesting beach.

Mr. Mom

— Seahorses, jawfish and damselfish agree: sometimes, the best mom for the job…is a dad!

Are You My Mommy?

— Test your reasoning skills to match the fish larvae in the microscope to the adult.

Crabby Mom

— Will the giant land crab make it across the road to lay her eggs?
Participants will receive a paper passport to be punched at each station as they complete the activities. Those who complete all five activities will earn a special button to help remember the day, and those who have earned all five buttons this season (and can prove it by bringing them!) will receive a Family Fun Fest Fanatic award.
Family Fun Fest is a monthly event held from January through May. The series is made possible through a grant from the Captain Bob Lewis Boat Center Yamaha Billfish Challenge and the Bobby Duryea Memorial Fund at the South Florida National Parks Trust. Additional support this month comes from the Biscayne Bay Aquatic Preserves, The University of Miami's Rosenstiel School of Marine and Atmospheric Science Graduate Student Organization, NOAA Fisheries Mississippi Laboratories, Wild Florida Productions, Inc., GetOutdoorsFlorida.com and a host of dedicated volunteers.
Family Fun Fest will return for its Tenth Anniversary Season in January 2010.
The Dante Fascell Visitor Center is located at 9700 SW 328 Street, nine miles east of Homestead, Florida. Call 305-230-7275, extension 0 for more information.