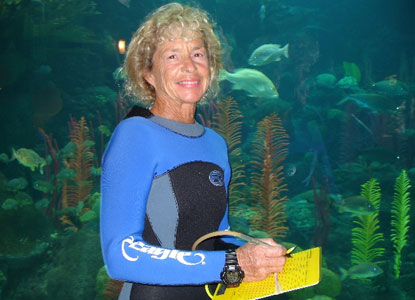 News Release Date:
December 15, 2006
Contact: Susan Gonshor, 305-230-1144, x 3004
The Reef Environmental Education Foundation (REEF), in collaboration with Biscayne National Park, presented its Blue Diver award to retired schoolteacher Lillian Kenney, in recognition of her volunteer work to inventory and monitor reef fish. While SCUBA diving at Biscayne National Park in Homestead Florida, Kenney conducted the 100,000th fish census survey of the REEF Volunteer Fish Survey Project.
"Partnering with land management agencies, like Biscayne National Park, to host the Great Annual Fish Count each summer is one way that volunteers can participate in REEF's Volunteer Fish Survey Project," states REEF Executive Director, Leda Cunningham. This Project trains snorkelers and divers to collect census data on fish and other marine life throughout the coastal Americas, the Caribbean and Hawaiian Islands and the tropical eastern Pacific. Over 10,000 volunteers have contributed more than 4,000,000 fish sightings to the Volunteer Fish Survey Project since 1993. REEF works with the National Park Service, the National Marine Sanctuary Program, and other experts to facilitate the use of this data in research, resource management and public education efforts.
"I am honored [to receive this award]," said Lillian. "There's a limited number of scientists and money available to survey [fishes of] the world. I feel like I'm contributing to science and I'm having a lot of fun [while doing so]!" The Blue Diver award recognizes the contributions of all divers to preserving the 'blue' environment by providing much-needed information about what happens below the ocean's surface.
"Volunteer based projects such as the Annual Fish Count serve to engage the community in Biscayne's resources and exemplify the valuable contributions made by volunteers, stakeholders and partners to our resource management work," says Mark Lewis, Biscayne National Park Superintendent. "Participants in these annual events aid scientists in monitoring fish populations while increasing their understanding and appreciation of the park's unique resources"
The National Park Service recently announced the release of the Ocean Park Stewardship Action Plan - a comprehensive plan for working collaboratively with other federal and state agencies and partners to restore and maintain ocean resources in the National Park System. The National Park System contains more than 5,100 miles of beaches, coral reefs, kelp forests, wetlands, historic shipwrecks and forts, and other jewels of the coastal zone that attract over 75 million visitors every year. These parks play a critical role in conserving the nation's ocean and Great Lakes heritage. In 74 parks, spanning 25 coastal states and U.S. territories, people come to camp, fish, snorkel, scuba dive, boat, and watch wildlife. These parks also generate over $2.5 billion in economic benefits to local communities.
To learn more about the Ocean Park Stewardship Strategy and coastal and oceanic parks in the National Park System, visit the Above and Below the Waves: Coastal and Oceanic Treasures in the National Park System website at www.nps.gov/pub_aff/oceans/conserve.htm. For more information on REEF, the annual fish count, logon to www.reef.org.