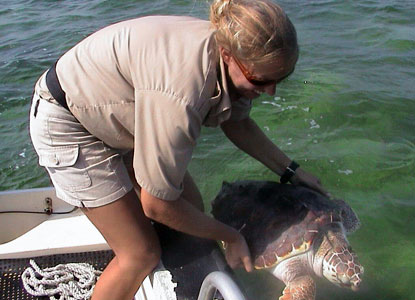 Welcome to Biscayne National Park's Sea Turtle Main Page. The park offers many opportunities to observe sea turtles in their natural habitat, and we hope that when you visit the park you are lucky enough to spot a turtle surfacing in the water or hanging out on a reef. To learn more about the different aspects of sea turtles in Biscayne National Park and what park staff and volunteers are doing to protect sea turtles, please click on any of the links below:
Sea Turtle Basic Background Information
Species Focus: Loggerhead Turtles
Biscayne National Park's Sea Turtle Conservation Program
How can I help protect sea turtles?
Summary of 2012 sea turtle nesting season and habitat restoration activity