Invasive Species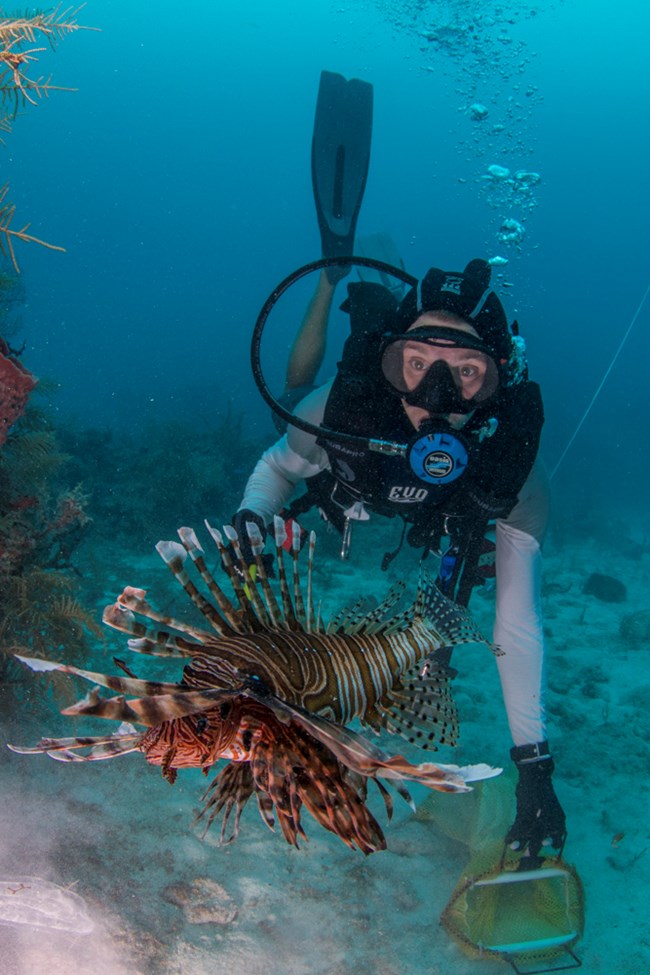 The spread of invasive species is recognized as one of the major factors contributing to ecosystem change throughout the world. An invasive species is a "non-native species whose introduction does, or is likely to cause, economic or environmental harm or harm to human, animal or plant health."

Invasive species often lack natural predators to keep their numbers in check. Because of its warm climate, South Florida is an inviting place for them. Whenever possible, park managers attempt to control the distribution and spread of these species. Please do not release an exotic plant or animal into the wild, even if you think it is harmless.
Many invasive species may be controlled if caught early enough, so please report sightings to proper authorities. Click here to report the sighting of a new invasive species in the park. Please provide as much information as possible (date, location, number, size, image and/or behavior). A list of invasive species that may be found in the park is below.

| | | | |
| --- | --- | --- | --- |
| Type | Scientific Name | Common Name | Frequency in the park |
| Amphibian | Bufo marinus | Giant toad, cane toad | Abundant |
| Amphibian | Eleutherodactylus planirostris planirostris | Greenhouse frog | Common |
| Amphibian | Osteopilus septentrionalis | Cuban tree frog | Common |
| Bird | Acridotheres tristis | Common myna | Occasional |
| Bird | Cygnus olor | Mute Swan | Rare |
| Bird | Sturnus vulgaris | European starling | Common |
| Fish | Amphilophus citrinellum | Midas Cichlid | Observed in canals along park's western boundary |
| Fish | Astronotus ocellatus | Oscar | Observed in canals along park's western boundary |
| Fish | Chromileptes altivelis | Panther grouper, humpback grouper | A single individual has been reported and removed |
| Fish | Cichla ocellaris | peacock cichlid, butterfly peacock bass | Observed in canals along park's western boundary |
| Fish | Cichlasoma bimaculatum | Black acara | Observed in canals along park's western boundary |
| Fish | Cichlasoma urophthalamus | Mayan cichlid | Observed in canals along park's western boundary |
| Fish | Clarias batrachus | walking catfish, clarias catfish | Observed in canals along park's western boundary |
| Fish | Ctenopharyngodon idella | grass carp | Observed in canals along park's western boundary |
| Fish | Hemichromis letourneauxi | Jewel Cichlid | Observed in canals along park's western boundary |
| Fish | Hemichromis letourneuxi | African jewelfish | Observed in canals along park's western boundary |
| Fish | Leporinus fasciatus | banded leporinus | Observed in canals along park's western boundary |
| Fish | Oreochromis aureus | blue tilapia | Observed in canals along park's western boundary |
| Fish | Oreochromis mossambicus | Mozambique tilapia | Observed in canals along park's western boundary |
| Fish | Parachromis managuensis | Jaguar cichlid | Observed in canals along park's western boundary |
| Fish | Pterois volitans/miles | Lionfish (red lionfish, striped lionfish) | Common, and increasing in occurrence. Visit our lionfish page |
| Fish | Pterygoplichthys multiradiatus | Orinoco Sailfin Catfish | Observed in canals along park's western boundary |
| Fish | Tilapia mariae | spotted tilapia | Observed in canals along park's western boundary |
| Fish | Zanclus cornutus | Moorish idol | What is believed to be a single individual has been repeatedly observed on reefs along the park's eastern boundary |
| Insect | Cactoblastis cactorum | Prickly pear moth, cactus moth | Rare |
| Insect | Solenopsis spp. | Imported red fireant | Common |
| Mammal | Felis domesticus | Feral cat | Occasional |
| Mammal | Rattus rattus | Black rat | Common |
| Mammal | Sciurus aureogaster | Mexican red-bellied squirrel | Rare |
| Reptile | Anolis sagrei | Cuban brown anole | Common to abundant |
| Reptile | Basiliscus vittatus | Brown basilisk lizard ('Jesus lizard') | Common |
| Reptile | Hemidactylus garnotti | Indo-Pacific gecko | Occasional to common |
| Reptile | Hemidactylus mabouia | Tropical house gecko | Occasional to common |
| Reptile | Hemidactylus turcicus | Mediterranean gecko | Occasional |
| Reptile | Iguana iguana | Green iguana | Common |
| Reptile | Ctenosaura similis | Black spiny-tailed iguana | Rare |
| Reptile | Agama agama | Common agama | Frequently seen around park entrance |
| Reptile | Python molurus bivittatus | Burmese python | Rare; Visit the Everglades python page |
| Reptile | Ramphotyphlops braminus | Brahminy blindsnake | Occasional |
| Reptile | Tupinambis merianae | Black and white tegu lizard | Observed near park's mainland boundary |
| Reptile | Varanus spp | Monitor lizard | Observed near park's mainland boundary |
Additional information:
Last updated: May 24, 2021