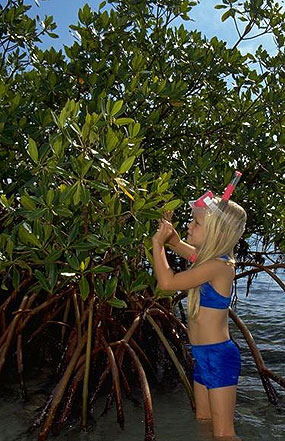 Kids will enjoy snorkeling in the bay or on the coral reef, poking along the rocky shoreline at Convoy Point, and canoeing along the park's mangrove coast. The Dante Fascell Visitor Center has great exhibits to help kids learn about Biscayne's watery world, and our touch table provides lots of opportunities for one-on-one learning with a park ranger.
Kids can become a Junior Ranger on any visit to the park. All the details are on our Junior Ranger page.
For organized groups, the Park offers a variety of education programs both on and off site, including a three-day/two-night residential environmental education camping program on Elliott Key for fifth and sixth grade classes. Visit the For Teachers section to learn more.
Special events throughout the year offer families a great opportunity to learn about the park together. On the second Sunday of each month from December through April, the park hosts Family Fun Fest, three full hours of hands on activities for kids and kids-at-heart. Come celebrate the National Park Service's birthday on the last Sunday in August. Cleanups are a great way to spend a day in the park and help benefit it at the same time. Check the Park Fun and Schedule of Events pages to see what's happening.