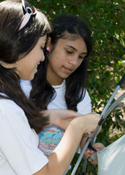 BISCAYNE EXPEDITION is a resource based camping program that aims to instill an understanding and appreciation in your students for the natural world around them. Elliott Key is the site of the Biscayne Education Program's unparalleled outdoor classroom. Biscayne Expedition provides students with the opportunity to immerse themselves in a learning experience and environment that cannot be duplicated in the classroom.
A park ranger will facilitate your school's visit to Biscayne National Park by leading you through a variety of programs and activities. These programs and activities are designed to mimic the actual scientific thought and procedures that are performed by park scientists every day. Through these programs, students will be encouraged to form their own opinions and draw their own conclusions about environmental concerns. Register for the program here.
Grades: 5th -12th
Ranger Led: Yes
Program Length: 3 days/2 nights
Standards based: Yes
Group size: 15-25 students
Chaperones: 1 per every 5 students
Program Dates: January - February
Teacher workshop required.
School's responsibility: Transportation to the Dante Fascell Visitor Center and food
Park's responsibility: Program supplies, a ranger, boat transportation, campsite, tents, and kitchen supplies.
For more information: Call (305) 230-1144 x 08 or e-mail us