Day Programs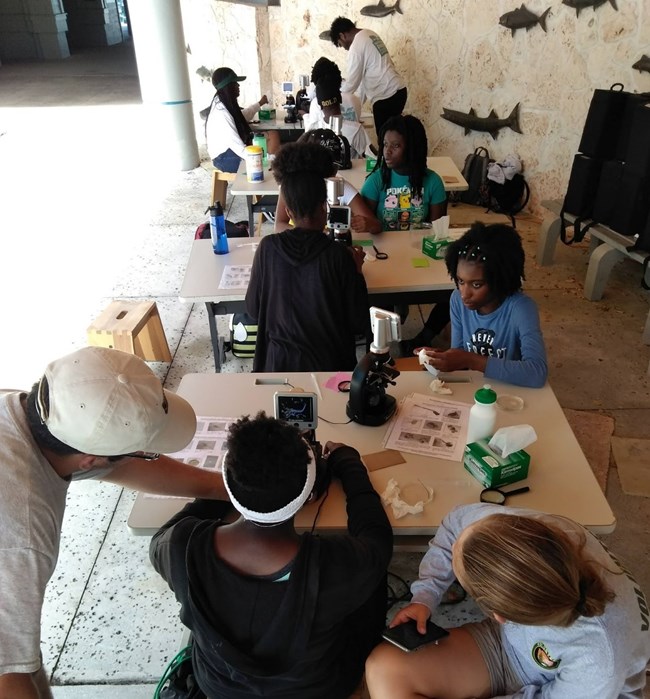 Biscayne Explorer - A standards-based, ranger-led program that brings marine science to students who perform tasks similar to those of park staff. The park's classroom is converted into a plankton lab where students learn about phyto and zooplankton, algae blooms, and water quality while making wet slides and identifying microscopic life inside a drop of water. The seining activity encourages students to get their hands wet as they catch and inventory juvenile fish while learning about current fisheries research. The visitor center exhibit hall surrounds students with dioramas of the park's four primary ecosystems and allows for in-depth individual learning and exploration.
Biscayne Explorer classes usually arrive around 9:30 and leave around 1:30. Upon arrival to the Dante Fascell Visitor Center, students will be greeted by a park ranger and given a brief orientation. They will then be divided into groups of 10-15 students to rotate through 45-60 minute activity stations. Some activitiy stations examples are: Plankton Lab, Seining, Nature Walk, and Visitor Center Exploration. We also offer canoeing and fishing clinics for students 4th grade and older if staffing, timing, and weather permit.
Grades - Primarily 4th grade. We'll take requests for other grade levels but 4th grade is our priority. Plankton Lab is appropriate for 4th grade and older. Seining works well for all ages, as does nature journaling and Visitor Center Exploration.
Ranger led - yes
Group size - 20-50 students max
Chaperones - One per every ten students
Program dates - October - May
Registration - request form
For more information - call (786) 335-3690 or e-mail us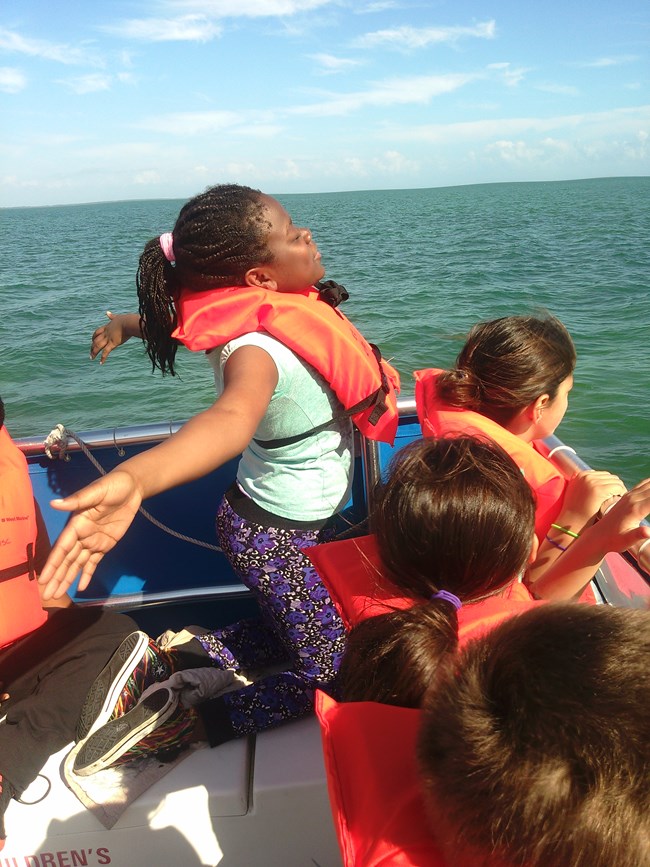 Biscayne Voyager! (In development. We expect to offer this special limited program beginning in January, 2022)
Biscayne Voyager is a standards-based and ranger led program that immerses 4th grade students in Biscayne Bay's history and habitats. Students learn about South Florida history from the end of the most recent ice age to modern times and connect the human story to our marine world through ranger narratives, activities, and first hand observation of the ecosystems on a 3.5 hour voyage across Biscayne Bay.
Students will navigate across the bay aboard a Coast Guard Certified park concessioner vessel to Boca Chita Key. While on Boca Chita, students will work in small groups and rotate through several stations: exploring the light house, doing a 1 mile natural walk around the island, and seining along the shallow shoreline.
Grades - 4th
Ranger led - yes
Group size - 25 students
Chaperones - One per every five students
Program dates - TBD
Registration - Not taking registration requests at this time

.

For more information - call (786) 335-3690 or e-mail us.
Last updated: November 20, 2021