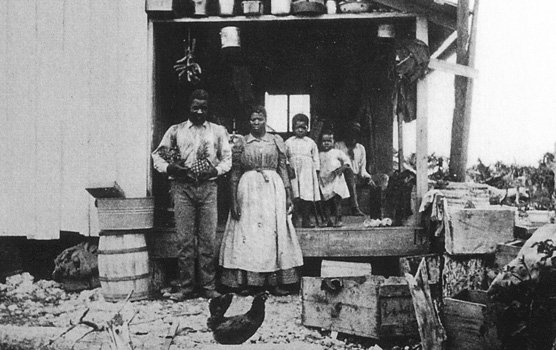 News Release Date:
June 2, 2010
Contact: Maria Beotegui, 305-230-1144, x004
Biscayne National Park introduces a new educational program this month called A Picnic at Porgy Key: The Traveling Trunk. The interactive learning experience is designed to connect teachers and students to the industrious Jones family, who lived and worked the waters and islands of today's park for nearly a century. A Picnic at Porgy Key: The Traveling Trunk can be delivered to any school in Dade, Broward or Monroe county.It contains lesson plans, supplies, background histories, and almost everything else that teachers need to bring Biscayne's cultural history to life.
Entrepreneurial, hardworking, and truly special, the Jones family transcended race, nationality and tradition to weave a unique and rich story of pioneer life on the Florida Keys. Israel, Mozelle, and their sons King Arthur and Sir Lancelot worked the land and waters of Biscayne National Park for nearly a century from their home on Porgy Key at the southern end of the park. They planted pineapples and key limes on Totten Key. They watched wreckers save cargo and spongers collect sponges to sell in the North. They endured hurricanes, pirates, and mosquitoes. They saw the rise of the Miami skyline and the creation of the National Park which would permanently protect the area that they had come to treasure.
"Many people learned about the Jones family last fall when documentary filmmaker Ken Burns featured them in The National Parks: America's Best Idea," said the park's Education Coordinator Maria Beotegui. "Now teachers can bring 100 years of the park's human history to life in the classroom using the materials in this trunk."
Although the activities are written to the fourth grade level, they can be adjusted to younger or older students as needed.Each activity is written to Florida Sunshine State School Standards. Not only will this traveling trunk help teachers find creative ways to teach required materials, but it will also help to connect students to their National Parks. Proceeding chronologically, each activity has been carefully chosen for its adaptability and its relevance to the education program. Teachers are able to keep the trunk for two weeks, though extensions may be requested.
A Picnic at Porgy Key: The Traveling Trunk is made possible through the National Park Service's Parks as Classrooms Grant.
For further information or to reserve A Picnic at Porgy Key: The Traveling Trunk, call (305)230-1144 x 08, or visit the park's website at www.nps.gov/bisc/forteachers