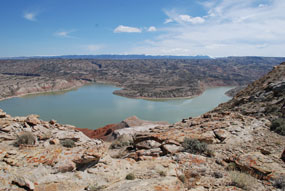 Difficulty: Hard
Length: 3.75 miles round trip

Sykes Mountain Trail is a rugged cross-country hike up a desert mountain that directs the hardy hiker to overlooks of Bighorn Canyon and Horseshoe Bend.
This is a favorite hike for many, but is less enjoyable during hot summer days. As the trail weaves and climbs through junipers, boulders, and sandstone ledges, the hiker feels as if they are hiking through layers of time. Even an amateur geologist can tell the mountain has layers that have recorded the changes nature has experienced through the ages.

The trail begins at the Horseshoe Bend access road sign. You may park in the Ranger Station parking area across the road. Follow the trail markers around the hill and into the first drainage until you see a small game trail. At the rockslide, cross to the east side of the drainage. Here the game trail disappears. Continue to follow the rock cairns, picking your way upward.

At the top, a deep canyon forces you to go east. Follow the ridge to where it begins to bend into a horseshoe. From here follow the trail markers through the shallow drainage to the overlook.At the overlook you may turn back or continue.

There are two hills south-west of the overlook. The taller of the two is called Crooked Creek Summit. Cross the juniper flats and proceed to the summit. From here you can see vistas of surrounding landscapes and the mountains that enclose the Bighorn Basin. To finish the hike follow the trail markers back to the ridge, and down to the main trail.