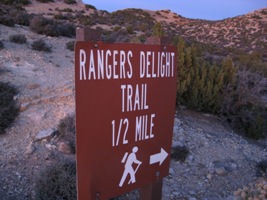 Difficulty: Easy to Moderate
Length: 1/2 mile

Park in the parking area on the west side of the park road approximately a half mile north of the state line. The trail begins on the east side of the road on the lower north edge of the draw.

While following the faint road cut, it is easy to feel like the only person that has ever hiked this trail. Evidence that deer have bedded down in the area and their uninterrupted tracks are one of the only signs that you are not alone. Continue to follow the trail through the saddle and toward the canyon. At the cut-off fence post and trail marker you can turn left and hike toward the rim. This is the end of the trail. Walking to the right will bring you into the bend of the river and give unique views of the canyon.
Walking to the left, you have a good view of the ledge below with a sheep trail that treacherously traces the canyon rim. For more solitude and exploration go back to the cut –off fence post and continue to follow the road cut and trail markers to the State Line trail.