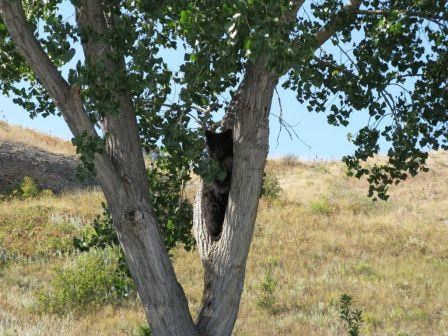 Camping with Bears
Black bears make their home in Bighorn Canyon and in the surrounding mountains. Bear sightings occur from spring through fall, in the Black Canyon campground and in the Trail Creek campground at Barry's Landing.
The bear's welfare depends on the ability and willingness of humans to follow these basic safety rules when visiting bear country.
Do not leave any fish or entrails on the lakeshore. Dispose of them (and all refuse) in bearproof garbage cans. If garbage cans are not available, dispose of any fish parts by sinking them in deep water.

Odor attracts bears! Never leave food or garbage unattended.

Use bear boxes and hanging racks for food storage. If unavailable, food should be kept in your motor vehicle.

Do not leave food, dirty dishes, empty food containers, or cooking utensils out or stored in a tent.

NEVER FEED A BEAR!
Bear problems are people problems, and they are preventable. Bears remember easily obtained human food sources and will return to them, becoming problem bears that have to be destroyed. By simply following these rules, we can ensure the preservation of this magnificent resident of Bighorn Canyon.