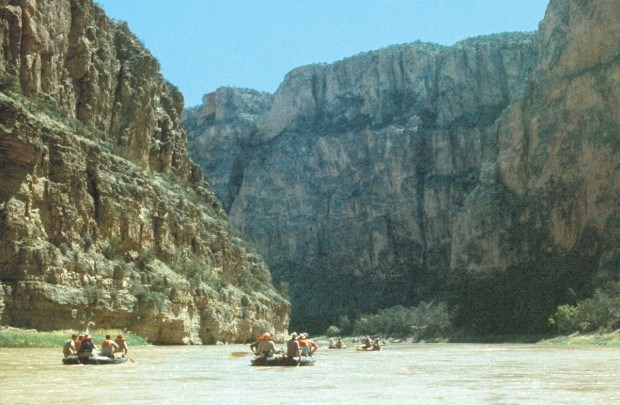 1825 - Jim Bridger reportedly makes the first recorded trip through Bighorn Canyon. He braves the river in a self-made driftwood raft.
1867 - Frank (Finn) Burnett accompanied by two co-workers - all civilian contractors doing timber cutting work for Fort C.F. Smith - make a trip from the junction of the Shoshone and Bighorn Rivers through the canyon in order to drive logs cut upriver into a boom that had been built downriver near Fort C.F. Smith.
March 1891 - Edward Gillette, a surveyor for the Burlington Railroad and a prospector named Sharpe make a trip through the canyon mostly on ice. They toe river rapidssupplies and equipment on a sled made of cottonwood poles.
August 1893 - W.G. Griffen and a party of three men from Sheridan, Wyoming make a trip through the canyon on a crudely built homemade boat. They tow the boat around the worst of the rapids with ropes.
Late 1890s - Dr. Will Allen attempts a trip through the canyon. Boat is smashed in the Big Homburgs area - below Bull Elk creek - when it strikes a boulder. Allen has to walk out of the canyon. The boulder becomes known as "Allen's Rock."
1903 - Two Harvard students allegedly make a trip through the canyon in a small boat.
May 31, 1913 - Grosverner W. Barry, his stepson Claude St. John, and friend Delbert Smith make a trip from Bighorn Canyon all the way to New Orleans. They put in at Barry's Landing and make it through the canyon in two days. They finish in New Orleans almost exactly two months later, on August, 1, 1913.
August 1928 - Charles J. Belden, a rancher from Pitchfork, Wyoming leads a group of four men in two boats - "Spirit of the Pitchfork" and "Hell Diver" - on a trip through the canyon. They begin in Basin, Wyoming. It takes them just over a week to complete the trip.
1931 - Bill Greene of Greybull, Wyoming makes a successful trip through the canyon with a motorboat.
1949 – Five men from the Bighorn basin float the canyon. One of their wooden boats is smashes into a canyon wall.
August 1965 – The "last river trip" takes places as a diverse group of 29 businessmen, tribal representatives and local leaders make a 3 day float trip through the canyon.