Pryor Mountains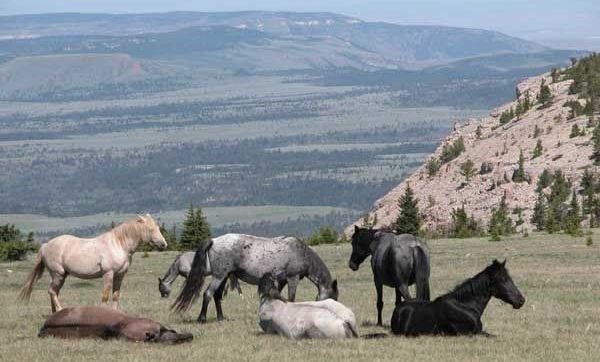 The Pryor Mountains are to the west and north of Bighorn Canyon National Recreation Area. The product of arched uplifts, they are good examples of fault block mountains. They have steep east facing fronts that have eroded back from the plane of the fault zone and gentle slopes off to the west controlled by the resistance to erosion of the Madison Limestone.
Remote and Isolated
Less well known then almost any other mountain range in Montana, remote and isolated, the Pryor Mountains are dwarfed not only in height, but also in popularity by the massive Beartooth's just to their west. Yet rarely has a mountain range's topography displayed such magnificent diversity in a relatively small area.
Magnificent Diversity
Everything from desert to alpine features can be found in the Pryors. There are mesas, more akin to what one would find in the southwestern United States and buttes that bring to mind the badlands and grasslands of the Great Plains. The highest peak, topping out at over 9,000 feet is an aberration in a range where most promontories are in the 6,000 to 8,000 foot range.
Best known for the Pryor Mountain Wild Horses that still roam these lands, the mountains also contain a plethora of caves, as well as archaeological evidence dating human activity in the area up to 10,000 years ago. In full, the Pryors are a microcosm of the features found throughout the American West.
Last updated: February 24, 2015