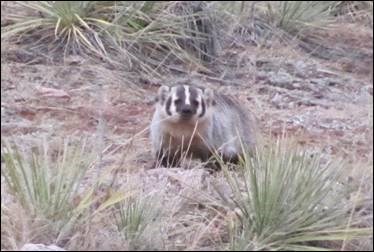 Badgers are residents of Bighorn Canyon. They are members of the weasel family, like skunks and wolverines. They have extremely strong claws and muscular legs which allow them to create underground dens deep within the soil. Their main physical characteristics:
a height of about 30 inches
weigh between 12 to 24 pounds
thick hair and loose skin
Well known for their ferocity, badgers find many different food sources. These include mice, squirrels, birds, and even rattlesnakes. It is thought that there is no animal near the same size that can take down a badger. This is due to their amazingly strong claws and sharp teeth.
At Home In The Earth
Larger animals that do attempt to prey on badgers find this a tough prospect. Using their claws, badgers dig into the earth at a depth predators find hard to penetrate. The badger's den can be found two to five feet beneath the ground, at the end of a tunnel up to ten yards in length.

Consider that a badger can dig faster then a human does with a shovel. It is also quite hard to corner a badger since they run as fast backward as they do while moving forward. They can also swim or sit in standing water!
Badger Sightings
Sighting a badger is a rare yet fulfilling experience. They are nocturnal by nature. Badgers should always be left alone, especially if accompanied by their young. Two to five offspring are born to a mother each year.