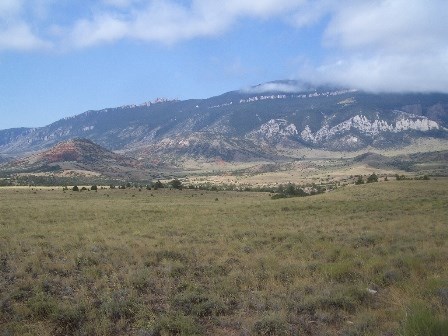 Ranchers did not come to the Bighorn Canyon area until around 1880 when Henry Lovell with the financial backing of Anthony Mason built a herd of over 24,000 cattle in just five years on the open range. The grass, water, and sagebrush were free in the early days. The open range gave way to fenced pastures in the 1890s.
Looking For Gold
Prospectors such as Erastus Ewing came looking for gold, but instead found that a small family ranch would have to suffice. After Ewing passed away and his family sold out, interlopers would come and go unable to meet the challenge in ranching such rugged land. When the Snells bought the old Ewing property they inherited the family ranching mantle and would make it work for three decades.
Much like Ewing, Doc Barry came to the area looking for gold and procured the fine water resources of Trail Creek. Barry formed three gold mining companies yet all failed. The upshot was that Barry too went into ranching, specifically dude ranching. He would become the first person to exploit the recreation potential of Bighorn Canyon with his Cedarvale Dude Ranch.
The Cattle Queen
In 1926, writer and journalist Caroline Lockhart bought a ranch in the Dryhead area of Bighorn Canyon. She thought there would be enough time to both write and ranch. She did write a few books, but spent most of her time raising stock. She became so successful that her steers won awards at stock shows in Omaha, Nebraska. Soon Lockhart was given the title "Cattle Queen of Montana."
These stories all prove that people could live a modest and in a few cases thriving lifestyle by raising stock in this rugged area. Yet many more failed and fled from this unforgiving landscape. There voices are for the most part silent, little if anything remains of there once vibrant dreams.
The "Running Iron And Lariat"
Another group of men attempted to make their living a different way, through cattle rustling. By using what was known as the "running iron and lariat" to alter cattle brands, rustlers plied the country waiting for just the right moment to steal from the unsuspecting rancher. They hid their precious contraband in the quiet canyons and remote basins around the Bighorn. If caught they could expect little or no mercy. Frontier justice was harsh.
Even the law abiding found that there was often a different legal code in the Bighorn Canyon area. Neighbors were often at odds, alliances formed around commonly held grievances. Good fences it is often said make good neighbors. On the land in and around the canyon, the lines between ranching and rustling were often blurred.
Stories
Garvin Basin and Cattle Rustling went hand in hand at the turn of the 20th century. Though the basin seemed to be the perfect hideout, it did not escape the notice of law and justice.