Old Wood Road
Listed on the National Register of Historic Places in 1975 (see photo above), the Old Wood Road led to the pineries and the Limestone Quarry which were used to provide building material for the fort. The first two miles of Ok-A-Beh Road roughly parallels this historic road.
On August 10, 1866, Captain Nathaniel Kinney accompanied by Jim Bridger and a group of soldiers was the first detachment to travel the route. Their reconnoitering expedition located a good stand of pine on Lime Kiln Creek about 3 miles from the fort's eventual location.
Within two weeks these trees had been exhausted. From that point onward, detachments pushed further into the mountains searching for timber. Thus the Old Wood Road extended several miles away from the fort. The further out from the fort, the greater danger to the detachments.
This was illustrated on August 1, 1867 - the fateful day of the Hayfield Fight - when a returning detail was closely followed by Indians all the way back to the fort. Within sight of the fort the train was harassed, but not attacked. More than likely this harrassment was a diversion, to keep the fort's personnel focused on the Lime Kiln Creek area instead of the Hayfield where soldiers and civilians were undersiege.
The Old Wood Road can still be seen today. It's remnants running parallel to Ok-A-Beh Road at about the two mile mark. (See photo below) The Old Wood Road is now on private property and cannot be accessed by the public.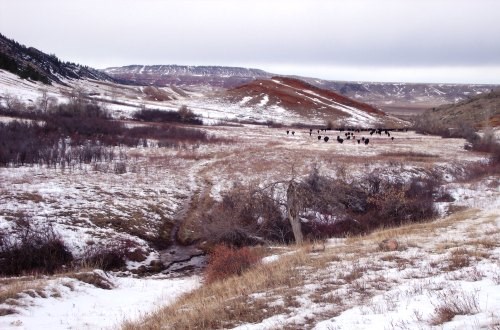 Last updated: February 24, 2015