North And South Cabins - Mason-Lovell Ranch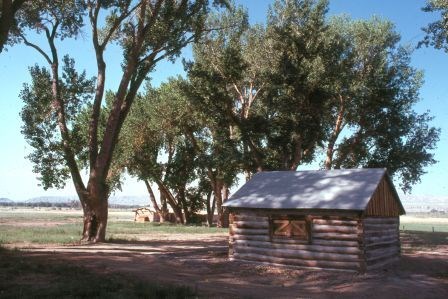 North Cabin
Built before the main house and mostly used for storage, the North Cabin was repeatedly painted and probably had a sod roof.

South (Orchard) Cabin
Surrounded by apple trees, the South Cabin was also referred to as the Orchard Cabin. With hewn, whitewashed interior walls, this single room cabin was a perfect residence for a married couple both of which were employed by Mr. Lovell.

Henry Lovell was a widower. In the early 1880's he had married Bertha Clara Collins, a schoolteacher from Missouri. Because the headquarters ranch at that time was little more than a cow camp, Lovell had built a handsome frame house in Billings, 95 miles to the north where Bertha would stay.
In July of 1885 while back in Missouri she gave birth to their only child, a son Willard. Less then three years later Bertha, whose health had been failing ever since giving birth, died in California. Henry Lovell would never remarry.
Last updated: February 24, 2015